These toddler carrot balls are a perfect snack for your picky eater. Not only are they healthy, but they're also delicious!
Recipes shaped like balls are a hit with my toddlers. I regularly make oatmeal energy balls and carrot balls for my kids.
Toddler friendly carrot balls are a great way to sneak some extra veggies into your little one's diet. Not only are they packed with nutrition, but also bursting with flavor!
These easy snacks check all the boxes on a happy toddler's list: they're cheesy, they're bite-sized, they're portable, and they're delicious!
Plus parents can feel great that these carrot bites will pack a healthy punch as well. In addition to the nutrients in the fresh veggies, these bites pack a punch of protein in both the egg and chickpea flour.
With just a few simple ingredients, you can whip up a batch of these in no time. We think your toddler will love them as much as we do!
Give them a try and let us know what you think.
Ingredients in Cheesy Carrot Balls
Carrots:
It's easy to *see* why carrots are a great choice for this recipe – carrots are chock full of vitamin A, an essential nutrient for healthy eyes. Additionally, they are high in fiber to aid in digestion.
Pre-shredded carrots work great with this recipe, as they have a lower water content than freshly shredded carrots. If you are using freshly shredded carrots, be sure to use a generous amount of paper towels to squeeze as much water from them as possible.
Cheese:
In addition to being delicious, cheese is a great source of minerals like calcium and magnesium. It is also adds even more Vitamin A, along with B vitamins, to our cheesy carrot bites. My kids love the Mexican blend shredded cheese with these carrot bites, but any type of cheese will work.
Chickpea Flour:
Discovering chickpea flour changed the game for my kids's snacks. I love that I can sneak it into so many recipes to make things gluten free and add protein and fiber. Both the protein and fiber can help your hungry toddler feel full longer. Additionally, chickpeas have antioxidant properties that can help prevent disease.
If getting your hands on chickpea flour is tricky, you can make your own at home! Simply place dried chickpeas in a high speed blender or food processor and process until a flour forms.
Egg:
Joining in on the protein-packed fun, egg also acts as a binder for our cheesy bites so they won't fall apart in those wild toddler hands.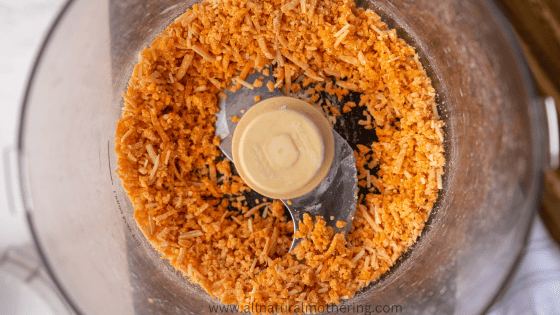 How to Make Cheesy Carrot Balls For Your Toddler:
These cheesy carrot balls are as easy as they are delicious. You'll start by mincing the carrot and cheese in a food processor. This part isn't essential, but lends a more uniform consistency to the bites. If you prefer big chunks of carrots, simply skip the food processor and mix by hand.
When the mixture comes together, it should be pretty dense and a bit sticky. If it is very wet, sprinkle in a bit more flour, but be careful not to over do it. The dough gets more workable once its had a chance to sit in the refrigerator for 10 minutes. This allows the flour time to absorb some of the liquid.
Want to make things even easier?
Simply transfer the mixture to a baking sheet lined with parchment paper and press it into a 1 inch rectangle. Bake the rectangle until set and cut into squares once it's cooled.
Alternative Ingredients
As with most of our recipes, this one is really a jumping off point to customize to your toddler. The carrots can be substituted for almost any other root vegetable, like sweet potato or even beets. As with the carrots, if you are buying pre-shredded, the moisture content should be fine. But if you are freshly grating the veggies, be sure to squeeze as much water as possible from them before continuing with the recipe.
This recipe can even be made vegan by swapping in vegan shredded cheese and using a flax egg instead of a whole egg.
Depending on your vegan cheese of choice, you may need to play with the amount of flour to get the right consistency.
Chickpea flour is a unique flour and works great in this recipe, however it may not always be available. Quinoa flour is a great swap in a pinch. It has a bit of a sweeter flavor, but is still loaded with protein. Of course, oat flour or regular wheat flour can be used as well. They should all be a 1 to 1 swap for chickpea flour.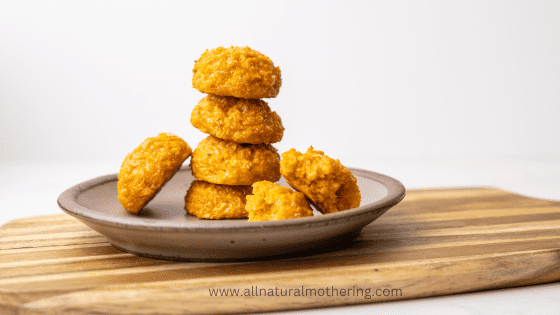 Carrot Balls Recipe
Makes: 6 bites
Active Time: 10 minutes
Total Time: 30 minutes
Ingredients
1 cup shredded carrot

¼ cup shredded cheese

½ cup chickpea flour

¼ teaspoon salt

1 egg
Process:
In a food processor, combine carrots, cheese, chickpea flour, and salt. Pulse to mince.

Add egg and pulse until combined.

Scoop about 1 Tablespoon into hands and gently roll into a ball. Place on a parchment lined baking sheet. Repeat to make 6 bites. Transfer baking sheet to refrigerator for 10 minutes.

Preheat oven to 425F.

Transfer baking sheet from refrigerator to oven and bake 10-12 minutes, until golden and set.