This strawberry smoothie is a refreshing summer drink that all babies will love. It is healthy, creamy, nutritious and everyone's favorite!
Smoothie mornings are a staple in our house. Our blender is probably the most used kitchen appliance, thanks to the different smoothies we make everyday.
It's one of those meals we make whenever we don't feel like cooking or when we are in a hurry. We love to grab a tall glass of fruit and protein packed smoothies to kick start our day.
But I was struggling to get my toddler to eat his dose of fruits and veggies for the day, I decided to introduce smoothies to him too and he loved it. So, smoothies are my go-to breakfast or snack these days.
It's one of the easiest breakfasts that you can make and the best part is we can get creative and add so many different fruits or veggie combinations to it. It tastes really good while being super healthy.
Even though consuming whole fruits is better than consuming them in pureed form, smoothies are still nutritious making it perfect for our growing babies and toddlers.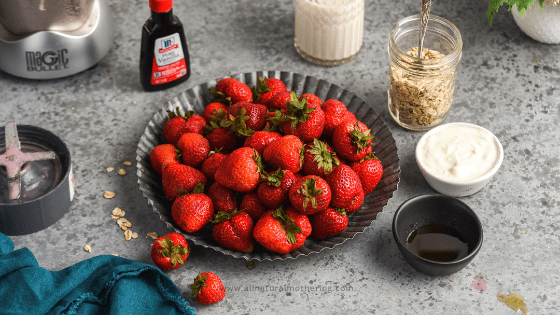 I love going berry picking with my kids. It's one of our favorite activities. There's nothing like beautiful weather, happy kids and a field of fresh ripe fruits waiting to be picked. The kids get excited at the prospect of picking the fruits and getting themselves dirty and I love seeing them excited.
We ended up with a huge container of beautiful strawberries from our strawberry picking outing few weeks back and I had to use them up. I froze some berries, so I could use them in smoothies and oatmeal in the future. We ate some fresh and the kids demanded a strawberry smoothie, so I obliged.
This strawberry smoothie is baby and toddler friendly and it's great for us adults too. It uses basic ingredients in our pantry and comes together in minutes. You don't have to use fresh strawberries in the recipe if you don't have them. You can also do this with frozen berries but it will result in a even more thicker consistency.
What goes inside this strawberry smoothie?
Strawberries – strawberries are an excellent source of Vitamin C and dietary fiber. Vitamin C helps in repairing tissues and maintain a healthy immune system. It is also good for our children's eye health. Children need a good amount of Vitamin C to protect them from diseases like scurvy. Since strawberries are low in fat and mildly sweet, they are perfect to satisfy sugar cravings while also being nutritious and tasty. The dietary fiber in strawberries help maintain a good digestive health.
Oats – Oats are rich in dietary fiber and therefore helps in maintaining our digestive health. The fiber in oats keep their little tummies full longer and makes sure they don't get constipated. Please make sure you get certified gluten free oats if you are allergic to gluten.
Greek Yogurt – An excellent source of probiotics and calcium. It is also rich in protein and other essential nutrients. If your kid does not like the taste of yogurt, adding it to smoothies is an excellent way to include it in their diet.
Milk – Milk and dairy form an essential part of every child's diet. They are a good source of protein and calcium. They also contain a variety of essential vitamins and minerals.
Maple syrup – Strawberries are sweet themselves and do not require additional sweeteners. But if you have a batch of tart berries or if your child has a sweet tooth, you can add some maple syrup or honey to give it some additional sweetness. Maple syrup is loaded with calcium and potassium making them an ideal choice over processed sugar.
Vanilla extract – I love adding few drops of pure vanilla extract to make the smoothie more fragrant and delicious.
This strawberry smoothie is thick, creamy, mildly sweet and so very delicious. The secret to the creaminess of this smoothie comes from oats and some frozen berries. We use a combination of fresh and frozen berries in this recipe so we have the beautiful flavor from fresh berries and creaminess from the frozen ones. Of course, you can do this with just fresh or frozen berries and they will still turn out great. But this is something I like to do when I have both on hand.
I also like adding some oats in the smoothie so it keeps their little tummies full.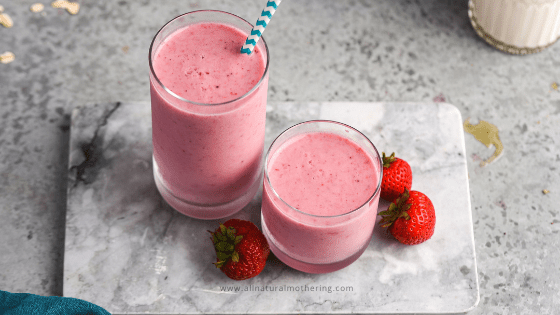 Other add ins suggestions-
Banana– A universal favorite. It also makes the smoothie creamy and sweet. I add it to most of my smoothies. I omitted it this time as I wanted to taste the enjoy the glorious taste of strawberries by themselves.
Nut butter – peanut butter, almond butter, cashew butter or even tahini are great additions in the recipe. They also provide an extra protein kick.
Protein powder – feel free to add some protein powder if you are making this for older kids/ adults.
Cacao powder – Makes it chocolatey and delicious! Kids love it.
Hemp seeds, flax seeds, chia seeds – All loaded with protein and fiber. Makes the smoothie very nutritious.
Spinach – Love adding a handful of greens that I have in the refrigerator so I can include them in their diet. I can't get them to eat their greens otherwise. Check out this spinach banana smoothie.
Other berries and fruits – If you want an explosion of different flavors in your mouth, feel free to add other fruits, frozen or fresh of your choice.
How can I make this smoothie dairy free or vegan?
To make this dairy free, simply substitute the milk and Greek yogurt with plant based alternatives. I love using cashew or almond yogurt and almond milk in place of milk and green yogurt. You could also use alternatives made with soy or coconut.
To make it vegan, make sure you avoid honey and use maple syrup or agave instead.
Why should you make this strawberry smoothie?
It is
Quick
Delicious
Perfect summer drink
Loaded with beautiful strawberries
Great for breakfast or mid-day snacking
Kids love them.
Let's jump to the recipe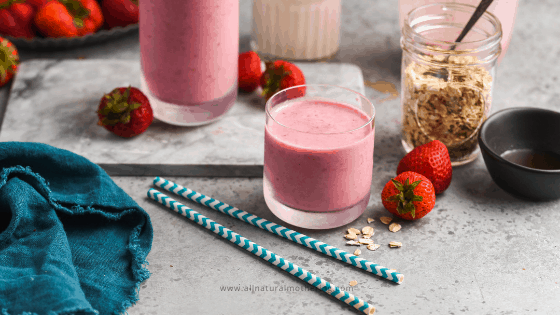 Toddler & Baby Strawberry Recipe:
Serves – 2
Ingredients –
1/2 cup frozen strawberries
1 cup fresh strawberries
¼ cup Greek yogurt
2 tbsp rolled oats
2 tbsp honey / maple syrup (use more or less as per desired sweet levels). Note: do not use honey for babies less than 12 months old.
¾ cup milk of your choice
1 tsp vanilla extract
Method:
Add all the ingredients to a high-speed blender and blend until everything is smooth.
Serve immediately.