Do you have a hard time making your baby eat carrots? Then you should give this delicious Carrot muffins a try! It is baby and toddler approved, easy to make and packed with veggies without any kind of refined sugar.
Carrots are very versatile and can be served to your babies in numerous ways. Steamed, roasted or included in baked goods like this muffin.
Muffins make a great breakfast / snack for babies. I love to make it because it hardly takes any time and you can prepare them in advance and have it ready for their mealtimes.
Travelling somewhere? Want a snack for the drive? Simply pack couple of these muffins in your baby's bag and offer when hungry. I love that it is mess free.
It's also a great way to sneak in veggies in your babies' diet. The soft and easy to hold texture makes this a great baby led weaning meal for your little ones.
This recipe does not contain any refined sugar and uses the natural sweetness from the carrots and apples to make it mildly sweet. So, you do not have to worry about this being a sugary treat for your baby. It has all good ingredients that you can give your baby with confidence.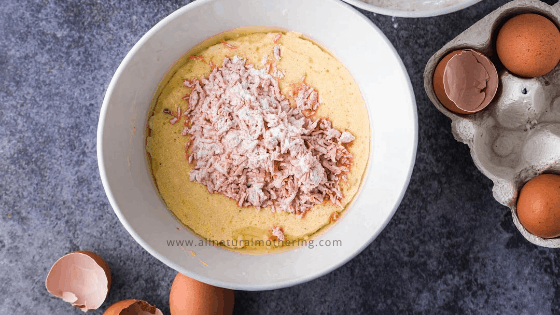 Anxious to introduce solid foods to your baby? Whether your are doing babyled weaning or purees, this baby food planner printable will help your feel prepared.
This printable includes :-
baby meal planner to help you plan ahead what you will be feeding your baby that week.
baby food tracker to keep track of what baby ate and how much at each feeding session.
baby food log to document baby's food preferences and reaction.
a simple guide to baby's first foods with common food categories to introduce to your baby.
a blank first foods sheet for personalization.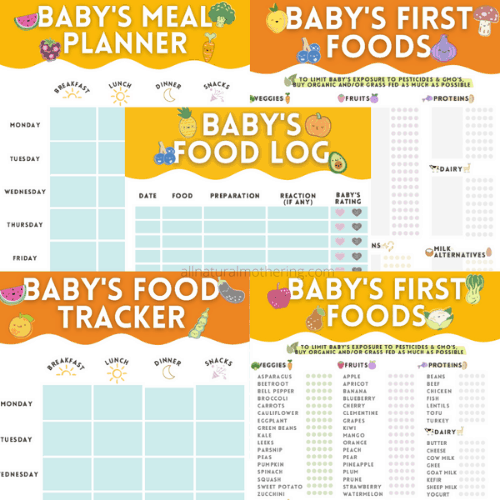 Benefits of this carrot muffins:
Carrots :
Carrots are one of the best baby's first food.
They are an excellent source of beta-carotene which is important for your child's growth and development.
We have all heard that carrots are good for your eyes. The beta carotene in carrots is converted into vitamin A which is helps in good eye health.
Carrots are also a great source of fiber which helps with digestion and help the baby have good bowel movements.
Essential vitamins and minerals like Vitamin C, vitamin B6, Vitamin K, calcium, phosphorous, iron and copper are found in carrots making it ideal for babies.
Yogurt:
The whole fat yogurt used in the recipe is a great source of protein and good fat for your baby. They are also rich in calcium which is important for your baby's bone health. If your little one is allergic to dairy, you can use nondairy yogurt like soy, coconut or almond milk yogurt in its place.
Applesauce:
Apples are one of the healthiest and nutritious fruits. They are packed with fiber and pectin which helps with your baby's digestive health. They also contain an adequate amount of vitamin C, antioxidants that are vital for your baby's health.
Olive oil :
Olive oil contains good fat. And babies need good fat for their growth and development.
Eggs :
Eggs are an excellent source of iron, protein and fat. They also contain vitamin A, D, B12 and other nutrients. They are important for your baby's brain development as they contain Choline.
Cinnamon :
While we don't include sugar for babies under the age of one, spices like cinnamon help give the dish a sweet flavor without all the unnecessary sugar.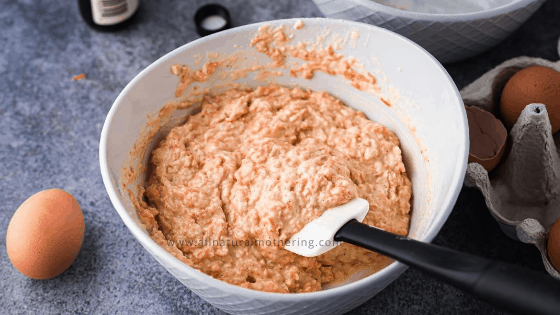 Substitutions and add – ins to the recipe –
Yogurt – If you are avoiding dairy for your baby, you can substitute the yogurt with any other nondairy yogurt of your choice. I like to use coconut milk, soy or almond milk yogurt instead.
Applesauce – Store bought or homemade apple sauce work well in the recipe. To make this at home, you would have to cook the apples until soft and puree them until they are smooth. Other fruit and vegetable purees like sweet potato puree, pear puree, prune purees work well too.
Olive oil – can be substituted with coconut oil / avocado oil.
Eggs – The eggs in the recipe can be substituted with equal quantity of flax eggs. To make flax eggs, you will simply add 1 tbsp of flax meal/ powder to 3 tbsp of warm water and let it sit for couple of minutes.
All purpose flour – All purpose flour in the recipe can be substituted with whole wheat flour or gluten free flour. If using whole wheat flour just increase the quantity of apple sauce used by 2 tbsp. Or you can also use whole wheat white flour.
You can also add grated zucchini in the recipe along with the carrots.
Nuts can be added in the recipe for older babies.
Other ingredients and flavors/ spices and that can be used in the recipe –
Nutmeg
Five spice powder
Pumpkin spice mix
Ground ginger
Chia seeds
Flax meal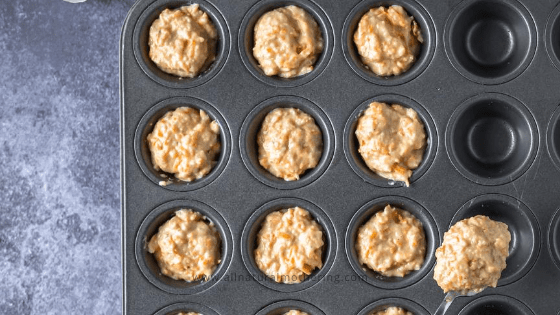 How to make these carrot muffins –
This one of the easiest recipes to make if you have all the ingredients ready to go.
First you will have to grate the carrots. I like to use the smallest hole in the grater so its easy for the baby to eat it. You can also pulse them finely using your food processor.
Mix the grated carrots with all the dry ingredients like flour, baking powder, baking soda, spice powder.
Mix all the wet ingredients and add the dry ingredients to this until mixed well.
Add the batter to muffin tray and bake until a tooth pick inserted comes out clean.
The muffins can be stored in an airtight container for about 3 to 4 days.
Why should you make this mini carrot muffins?
Bite sized and easy to grab and eat
Healthy
Easy to make
Mess free snack
Can be made in advance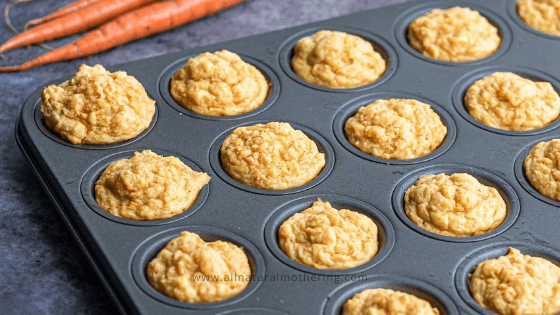 Tools Needed:
Stainless Steel mini muffin pan : It is healthier to use quality stainless steel when making baby recipes. Non stick pans tend to emit harmful chemicals when exposed to high heat so its better to opt for stainless steel.We use these mini muffins pans are they work great. Some use silicone cups as an alternative.
BLW Carrot Muffins Recipe:
Prep time – 5 minutes
Cook time – 15 minutes
Makes about 12 mini muffins
Ingredients:
1 cup shredded carrots
1 cup all purpose flour ( we like using this brand)
¼ cup olive oil or coconut oil
¼ cup + 2 tbsp apple sauce
1 organic egg
¼ cup organic yogurt
1 tsp baking powder
¼ tsp baking soda
½ tsp cinnamon
½ tsp pure vanilla extract
1/8 tsp salt
Method:
Pre heat the oven to 375 F
Shred the carrots using the smallest hole in your grater.
Combine the flour, grated carrots, baking powder, baking soda, cinnamon powder and mix well.
Add all the wet ingredients in a bowl – eggs, yogurt, oil, apple sauce, vanilla and mix well.
Add the dry ingredients to the wet ingredients and mix until combined.
Add a tbsp or so of batter in mini muffin trays (If using a bigger muffin pan, add more batter so that it is filled 3/4th way.)
A word about muffin trays. We like to use stainless steel muffin trays and avoid non stick ones especially when cooking for babies ( we love these ones). You can simply coat the stainless steel ones with oil, spray this coconut oil or use a liner.
Bake for 13 to 15 minutes until a tooth pick inserted comes out clean. Bigger muffins will have to be baked longer (about 18 to 20 minutes)
Don't forget to get this helpful baby food planner and tracker today! This will printable make your life easy by letting you pre plan your baby's meals, track feeding habits & preferences and help you introduce a variety of healthy food to your baby.