Kids like junk. No surprises there. Give them a plate of healthy fruit cup or a salad and another plate with sweet, delicious muffins or cookies, they would pick the later.
As moms it is normal for us to get obsessed over their nutrition. I feel you! Because I go through the same thing with my 18-month-old son and experienced the same with my first one. A word of advice, it gets better. It's a slogan I keep telling myself.
Ideally it would be great if our kids ate all the fruits and veggies. But they don't. Some might eat a few veggies here and there; some would totally refuse it. That's normal. As mothers if we constantly keep obsessing over it and force them to eat everything, meal times are going to be very stressful for the whole family. The one thing we can do is sneak in those veggies and fruits in dishes they like and hope one day they will eat them on their own 😊
This Spinach muffin or green muffin is one great way to do that. Sweetened with ripe bananas, loaded with nutrient rich spinach, wholesome oats, it is a fantastic way to get your kids to eat their greens.
Also, your kids will be excited with the bright green color of the muffins. Serve it with other colors in their plate like some blueberries, strawberries, oranges etc. and tell them it's a rainbow in their plate! Works like a charm.
These spinach muffins are healthy, mildly sweet, soft, and toddler approved. Also, it is super easy to make.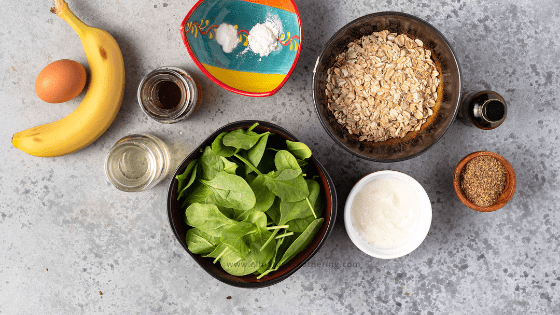 What goes inside these healthy spinach muffins?
As the name suggests, these muffins are loaded with nutrient rich spinach. Leafy greens like spinach are a great source of essential vitamins like vitamin A, Vitamin C, Vitamin K, magnesium and Iron. They also contain adequate amount of Calcium, potassium and other important nutrients. Eating spinach on a regular basis will help in your kid's eyesight. It also helps maintain a healthy immune system. The calcium in spinach helps strengthen the bones.
Given the multiple benefits that spinach has on our overall health, it is important to include them in our diet on a regular basis.
Oats is one of the healthiest whole grains. They are a great source of dietary fiber that is important for growing babies. Kids need adequate amount of fiber to help maintain proper digestive health. It helps with constipation and keeps their growing bellies full for a longer time.
Kids love banana. This naturally sweet fruit is one of the first fruits you introduce to your baby because they are generally very safe to introduce to a baby. They are gentle on your kids' tummies. Bananas are calorie rich and help keep them energized and full. It is one of those foods that I always have on stand by in our house because whenever my little one refuses the food I have prepared, I give bananas as a backup meal. Bananas are also a good source of calcium, magnesium, zinc, and vitamins A, B6, B12, fiber and folate. Try and use very ripe bananas in this recipe as they are naturally very sweet. The blacker, spottier the banana is, the sweeter it will be. Which makes it perfect for recipes like these.
Greek yogurt is another nutrient rich food that is great for kids. They are filled with Calcium, protein, fat and good probiotics. I always try to get organic whole milk yogurt for my kids if possible.
These muffins are sweetened with natural sweeteners like honey or maple syrup. I try and avoid processed sugar as much as possible when I am cooking for my kids. I have a mix of honey and maple syrup in the recipe here as I ran out of honey. You can use a mix of both or either one of them. Using honey makes the muffins a little sweeter than making it with just maple syrup.
I like to use avocado oil or olive oil in my recipes.
Flax seeds are rich in omega 3 fats, antioxidants and dietary fiber. A tbsp of flax meal sprinkled in your dishes can make your meal healthy and nutritious. This ingredient is totally optional and you can omit it if you wish. I like to add this to provide a little more structure to the muffins and I don't like my muffins to have an eggy taste to it. You can either make store bought flax meal or simply grind some flax seeds to a somewhat smooth powder.
Vanilla extract
Baking powder
Baking soda
How can I make these spinach muffins vegan?
To make these muffins dairy free, simply substitute the Greek yogurt with a dairy free yogurt alternative. You can also substitute it with any nut butter of your choice. Using nut butter will change the taste of the muffins slightly. But it will taste good nevertheless.
Eggs can be substituted with flax egg. To substitute simply add 1 tbsp flax meal and 3 tbsp water.
Honey can be used instead of maple syrup.
How can make these Spinach muffins gluten free?
You can make this gluten free by using certified gluten free Oats in the recipe.
Why should you make these muffins?
Loaded with greens
Easy to make.
All you need is a blender and a muffin tray
Does not contain any processed sugar
Great to make in large batches
Can be frozen for later use.
This spinach muffin is a hit my 18-month-old. I like to make them in a mini muffin pan and he has no trouble eating 2 to 3 muffins in one sitting. (Which is surprising because he is a picky eater)
I have not tested the recipe in a regular muffin pan. If you do try this in a regular muffin pan, make sure you adjust the bake time accordingly.
Add ins to the recipe :
Choco chips
Chia seeds
Flax meal
Spices like cinnamon, nutmeg, cardamom, all spice, pumpkin spice etc. as per your taste.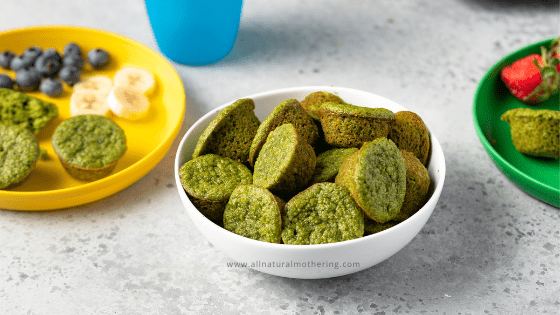 Toddler Spinach Banana Oat Muffins Recipe:
Prep time – 10 minutes
Cook time – 15 minutes
Ingredients
2 cups spinach
1 very ripe large banana
1 egg
1 tbsp flax meal
¼ cup Greek yogurt
¼ cup avocado oil
¼ cup maple syrup
1 cup rolled oats
1/2 tsp vanilla extract
¼ tsp baking soda
1/2 tsp baking powder
Method:
Pre heat your oven to 350 F
Grease your mini muffin pan with an olive oil spray or butter
Add all the ingredients to a blender and blend until you get a somewhat smooth batter.
Use a tbsp to pour the batter into the mini muffin pan. I add about a tbsp and a half for each muffin.
Bake the muffin at 350 F for about 12 to 13 minutes or until a tooth pick inserted comes out clean.
Remove the muffins and let them cool.
Store it in an airtight container and serve as needed.
These muffins stay good in the refrigerator for up to a week.