These baby friendly and toddler approved apple oat bars are a healthy make ahead breakfast recipe that are perfect for those busy mornings.
I'm sure your baby will love these. you can also check out berry oat bars for another easy oat recipe.
Whether you are following baby led weaning or you want to have breakfast prepped beforehand, these apple oatmeal bars for toddlers are a great recipe to make for the week. Loaded with fiber rich oats, apple sauce and shredded apples, these oatmeal bars make a healthy breakfast recipe for the little ones at home.
We always have apples at home. To be honest, it's not one of my favorite fruits to eat. But the older wiser me, knows that they are super healthy and therefore I make sure I always have them at home especially for the kiddos. But my kids decided they would take after me and hate apples. Ok, maybe they don't hate them as much as I do, but it's definitely not on their favorite fruits list. So, I have a difficult time including it in their diet.
I can get my 5-year-old to eat them raw when she's in a good mood. But my youngest always has an issue with its texture. I tried giving him a whole apple, cutting them into thin strips, dicing them, with and without skin. But it's always been a struggle. So, I blend them in smoothies, add it to oatmeal so he cannot pick it out. Even as a kid, applesauce was not his favorite.
This apple oatmeal bar is one such recipe, where I can sneak in apples without his knowledge. He loves eating on his own, and these oatmeal bars are mess free and easy to hold on to for those tiny fingers, when compared to traditional oatmeal. Also, since they can be made in advance, it saves me a lot of precious time in the mornings.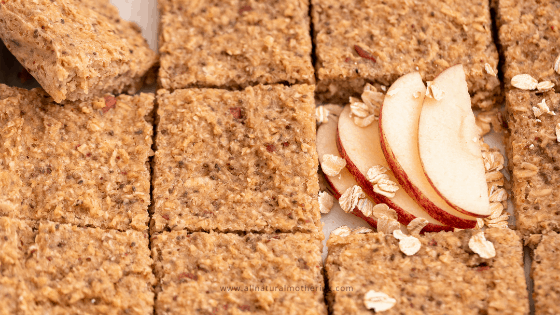 What goes inside these apple oatmeal bars?
Apples – Apples are one of the healthiest foods you can give to your children. They have various nutrients and bioactive compounds. They are a great source of soluble and insoluble fiber and also pectin which helps in maintaining proper digestive health. They also contain adequate amounts of calcium and magnesium which is vital for bone health. Vitamin C in apple helps in repairing tissue. Due to these numerous health benefits, apples should be an important part of every child's diet.
This recipe contains apples in the form of apple sauce and grated apples. You can use store bought apple sauce or make them easily at home by pureeing cooked apples.
Oatmeal – Oats are an excellent source of fiber. They also contain a good amounts of vitamins, minerals and antioxidants. They are a good source of energy and the fiber in them keeps their little bellies full longer.
Apple and oats are one of the safest foods that you can introduce to a baby who is just starting to eat solids as it's rare for some one to be allergic to them and also, they are very gentle on their tummies.
Apart from apple and oatmeal, these apple oatmeal bars also contain
Chia seeds and flax meal – Both of which are excellent sources of essential nutrients like protein, fiber and other vitamins and minerals.
Butter – Is a good source of fat which is good for growing children.
Cinnamon – Gives a beautiful flavor to the bars
Maple syrup – Makes it mildly sweet and appetizing for the children.
These apple oatmeal bars are not crispy, crumbly with lots of texture or overly sweet. They might not be a great dish for adults if you are looking for something that tastes like a dessert. Instead, they are chewy and soft, making it easy for babies to feed themselves. They are mildly flavored with cinnamon and vanilla and sweetened with maple syrup or honey. It's just a soft bar version of a simple apple sauce and oatmeal recipe. They are perfect for the little ones at home.
I love serving this with a generous drizzle of nut butters and more maple syrup to make it appetizing for my little ones.
Why should you make these apple oatbars?
These bars are –
Perfect as a baby led weaning meal or toddler snack
Can be made ahead
Can be frozen for later use
Healthy and fiber rich
Easy to make
Does not contain any processed sugar or unwanted ingredients.
Additions to these apple oatmeal bars
Spices like nutmeg, pumpkin spice, cardamom, turmeric, ginger etc
Chopped nuts like walnuts, almonds, pecans, cashews etc if making for children who can eat without the risk of choking.
How to make these apple oatmeal bars vegan?
To make this recipe vegan, simply substitute the butter with vegan butter or coconut oil. You could also substitute it with banana. But I have bot tired the recipe with these substitutions.
How to make this gluten free?
To make this gluten free, make sure you get certified gluten free oats.
What kind of oats do you use in this recipe?
This recipe uses rolled oats or old-fashioned oats.
What kind of apples do you need for this recipe?
You can make the applesauce with any kind of apple. For the shredded apples, a granny smith apple works well. But you could any apple of your choice.
Lets see how to make this baby friendly apple oatmeal bars-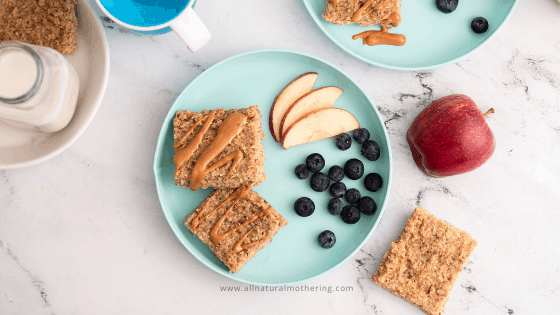 Toddler Apple Oat Bars Recipe:
Prep time – 10 minutes
Cook time – 25 minutes
Ingredients –
2 ½ cups old fashioned rolled oats
1 cup apple sauce
1 apple shredded
1 tbsp chia seeds
1 tbsp flax meal
3 tbsp water
¼ cup melted butter
¼ cup maple syrup or honey
½ tsp cinnamon
½ tsp pure vanilla extract
Instructions-
In a small bowl mix the flax meal with 3 tbsp water and set it aside. It will become thick after a few minutes.
Preheat the oven to 375 F
To a food processor, add 1 cup of the oats and grind it until it resembles a coarse powder.
Now add the remaining oats, apple sauce, shredded apples, chia seeds, flax meal and water mixture, melted butter, maple syrup, Cinnamon and vanilla.
Pulse few times until the mixture comes together.
Do not make a smooth batter. The oats should still have some texture to it.
Grease a 8×12 inch baking tray with butter and line it with parchment paper.
Add the apple and oats mixture to it and spread it evenly.
Bake at 375 for 20 to 25 minutes until it becomes firm.
It should not be hard. It should be firm and slightly soft when you touch it.
Let it cool and cut it into squares or desired shapes.
Store it in an airtight container for up to 5 days in the refrigerator.