If you haven't embraced overnight oatmeal yet, then now is the time to do it. They are incredibly easy to make, saves a lot of time and taste delicious.
As new mothers it's normal to feel overwhelmed, tired and feel like you do not have time to eat a decent breakfast, especially if you have no help at home. From feeding the baby, changing diapers, cleaning the house etc.… things can quickly get out of hand and it is quite normal to skip breakfast to get other work done.
That's where overnight oatmeal comes to your rescue. It is a very simple, make ahead breakfast / snack that can make life easier for new moms. Most importantly, oatmeal and other ingredients mentioned in the recipe help boost your lactation. It is incredibly nourishing and energy boosting too.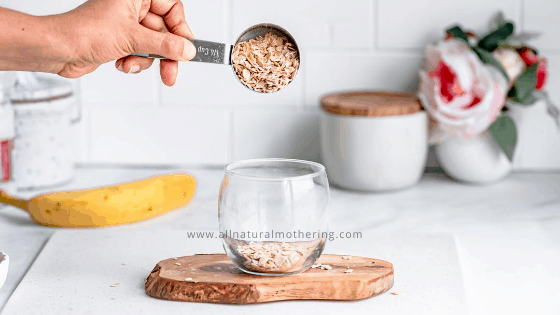 Benefits of Peanut butter lactation overnight oats:
Oatmeal
Certain foods are believed to help in increasing milk supply for nursing/ pumping mothers and oats is one of them. Oats are whole grains and they have a variety of healthy benefits.
Oatmeal is rich in iron and every new mother who is nursing/ pumping needs adequate iron. It is believed that women who have anemia produce less milk when compared to others.
Oatmeal is also rich in other essential vitamins and minerals like zinc, manganese, vitamin B etc.
Another reason why you should be including oats in your diet is that they are rich in fiber, specifically Beta- glucan which can help with milk production. Fiber also helps relieve constipation and should be a part of everyday diet.
Peanut Butter
Peanuts are very nutritious and healthy. They are a good source of good fats and protein. They also contain a lot of vitamins and minerals. Since breastfeeding mothers need as much protein and good fats as they can get, it is recommended to include peanuts as a part of their diet.
We all know that whatever a mother eats goes to her child via her breast milk. Studies have shown that, early exposure to allergens will prevent the babies from developing food allergies later on. Since peanuts are a very common allergen, it is better for nursing mothers to include it in their diet as early as possible.
Bananas
Bananas are very helpful in boosting energy.
It is very normal to feel tired all the time when you are a new mom. Breast feeding round the clock, sleepless nights, colicky baby or an active crawling baby can drain a lot of your energy. That is why it is always recommended for breast feeding mothers to not follow any diet and make sure they are eating a nutritious balanced meal.
A well-fed mother makes good milk for her baby. Bananas can give that energy boost most new moms seem to require. They are also a good source of potassium which is very important for overall well being.
Flax seeds
Flax seeds have milk production properties. They are rich in omega 3 fatty acids and a specific kind of estrogen which contributes to increasing milk production. Apart from being a good milk boosting ingredient, they also have a good amount of protein, anti-oxidants, calcium, zinc, and most importantly fiber. It is normal for new mothers to be constipated. Most doctors, prescribe some sort of laxative to help with constipation after birth. Eating fiber rich foods like oatmeal, flax seeds etc can help with post-partum constipation.
Milk
Lactating mothers need adequate amount of fluids every day. Nursing can make you feel thirsty all the time especially during the initial periods after birth. Nursing mothers are advised to consume lot of fluids in the form of milk, water, juices etc. Milk is a good source of calcium and calcium is vital for bone health especially in women. Milk and other dairy products are a rich in protein as well.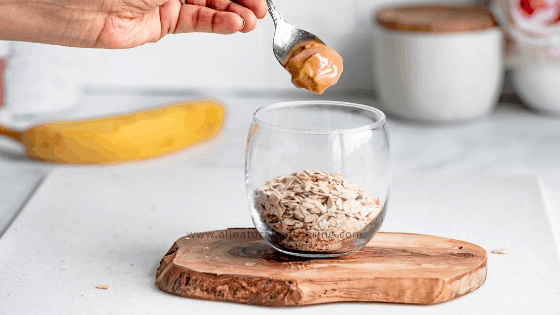 How to make this Peanut butter lactation overnight oats:
Like I said in the beginning, this is one of the easiest recipes you can make. It requires minimal effort and uses ingredients you mostly have at home.
To make this take a glass jar or bowl that you usually use to eat your oats. Preferably one with a lid.
Add all the ingredients mentioned in the recipe to the jar/ bowl. Add milk and refrigerate. Sounds so simple, doesn't it?
It is incredibly easy and the best part is that it can be had by everyone in the house and you can make different versions with various toppings, fruits and flavoring and have it ready for the whole week.
Kids especially tend to like this because of the sweetness form bananas and honey. It is comforting, nourishing and filling.
Why should you make this overnight oatmeal?
This lactation overnight oats is
Simple to make
Nutritious and healthy
Can be made ahead of time
Uses easily available ingredients
Helps with milk supply
Boosts energy.
Substitutions for the ingredients mentioned in the recipe:
The dairy in the recipe can be replaced with any other plant based milk of your choice. Good options would be coconut milk, almond milk, soy milk, oat milk etc.
Flax seed powder can be substituted with brewers yeast which is a popular lactation boosting ingredient as well. If you do not have flax seed powder / flax meal, you can make your own by grinding some flax seeds to a powder form using a food processor.
Peanut Butter in the recipe can be substituted with any other nut butter of your choice. Another great option is tahini, a paste made with sesame seeds.
Bananas can be substituted with any other fruit like berries, chopped apples, pear, kiwi, mangoes, pineapple etc.
Honey can be substituted with maple syrup or agave syrup. You can also use coconut sugar, jaggery or chopped dates to sweeten the recipe.
Extra add ins to this overnight oats recipe :
You can add the following ingredients to make it more nutritious and tastier
Chia seeds
Granola for some crunch
Chopped nuts like pecans, walnuts, almonds, cashews etc
Vanilla essence
Cinnamon powder or pumpkin spice powder for flavor
Chocolate chips
Cacao nibs
Hemp seeds
Protein powder of your choice for a protein boost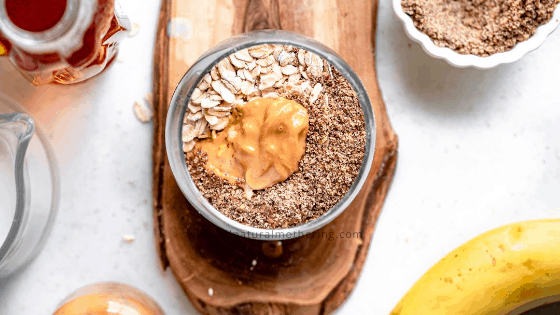 Lactation overnight oats recipe
Prep time : 5 minutes
Cook time – 5 minutes
Ingredients
½ cup organic oats( rolled or old fashioned oats)
11/2 tbsp flax seed powder
2 tbsp peanut butter
2 tsp honey
1 cup milk of your choice
1 banana chopped
Method:
Add all the ingredients except the bananas to a mason jar/ glass bowl and mix well until combined.
Cover with a lid and refrigerate it overnight.
Next day, add some freshly chopped bananas as topping, more peanut butter or honey as needed and enjoy.