Milk supply is a topic most nursing mothers stress about. As a mother we all want to be able to nurse our babies and give them the essential nutrients that they need. But not all women are blessed with a great supply and there are a lot of factors that could contribute to it.
Breast feeding can be emotionally draining. There's always this question in our minds. Is the baby getting enough milk? And it's not just mom's who have low supply that have this question. Every mother at some point might have this doubt while nursing her baby.
Milk supply and food:
While there are lot of factors that determine your supply, the food you eat can play an important role in determining the amount of milk you make and the quality of milk you make.
Factors like stress, frequency of feeding, effective draining of your breasts, sleep, hormones all play a role in the amount of milk you make. Some of those things are in our control while some aren't.
From our side we can make sure we are staying stress free, sleeping well, eating well-balanced nutritious meals, drinking lots of water and nursing on demand to maintain a healthy supply.
Some herbs like blessed thistle and foods like oatmeal, garlic, fenugreek etc. are known to increase your milk supply. These foods are known to be galactagogues (meaning that they help in promoting milk production)
So most mothers, start including these galactagogues right after their delivery to boost their supply, unless she has a problem of over production of milk.

Benefits of these no bake lactation energy bites:
These no bake lactation energy bites are a great snack. They contain ingredients that will not only help with your supply but also give you an energy boost to keep up with your growing baby. As a new mom, it is normal to feel hungry all the time. Nursing / pumping takes a toll on us and having such healthy snacks to munch on keeps us full and energized.
The clean and unprocessed ingredients make this very healthy. They can be had by everyone at home. Not just nursing mothers. Kids especially love these and they can be a healthy snack option for them.
Oatmeal
Oatmeal is known to help increase milk supply. I can say this confidently because, every time I nursed or pumped after having some oatmeal, my breast felt fuller, the let down was faster and I pumped a little bit more than usual.
I have few friends who swear by this as well and few others who haven't had much success with oatmeal. Whether they really work or not, oatmeal is a wholegrain and is rich in fiber and iron which is important for breastfeeding moms.
Flax seeds
Flax seeds are said to have omega 3 fatty acids and estrogen properties both of which can help in increasing milk supply. They are also a good source of protein, anti- oxidants and essential nutrients like calcium, zinc, magnesium etc.
Flax seeds are rich in fiber which helps in relieving constipation, a condition often found in nursing mothers especially if they are taking iron supplements.
Like any medicine, it is not advisable to consume too much flax seeds, even if its naturally derived. So please consult with your doctor on how much you can take every day.
Peanut butter
Peanuts are a good source of protein and healthy fats which is vital for nursing women. Also, studies have shown the early exposure to allergens will decrease the possibility of the baby developing allergies later on.
Nuts
Breastfeeding mothers can always use the extra calories and energy to maintain their milk supply and be healthy. Nuts like cashews, almonds, walnuts, pistachio etc are a good source of protein for nursing moms. They are also rich in calories, which will reflect in the composition of the mother's milk.
(Note: If your baby is developing severe eczema and has other symptoms that relates to a allergic reaction, consult with your doctor about eliminating the allergens from your diet)
Dates
Dates are the most delicious natural sweeteners available. They are a good source of tryptophan, an amino acid that helps with milk production. They are also rich in iron and potassium making it ideal for breast feeding women.
Substitutions:
People with nut allergies can leave the nuts off the recipe or use only nuts that they can tolerate.
If you do not have flax seed powder, you can easily grind flax seeds in a processor to make powder yourself. It can be substituted with brewers yeast.
Peanut butter in the recipe can be substituted with other nut butters like almond butter, cashew butter etc. If allergic to all of them, just leave it out and increase the quantity of dates so that the balls are able to bind.
Peanut butter can also be substituted with tahini, a paste made out of sesame seeds which are equally rich in protein and good fats.
It is also to be noted that it is incredibly easy to make your own nut butter at home. If you do not have peanut butter at home, you can always make your own nut butter and add it to the recipe.
Dates can be substituted with other dried fruits like dried apricots, raisins, dried figs etc. You can also use natural sweeteners like honey, maple syrup or agave syrup instead.
Chocolate chips, cacao powder, cacao nibs, coconut flakes, vanilla essence will make great additions to the recipe and elevate their taste.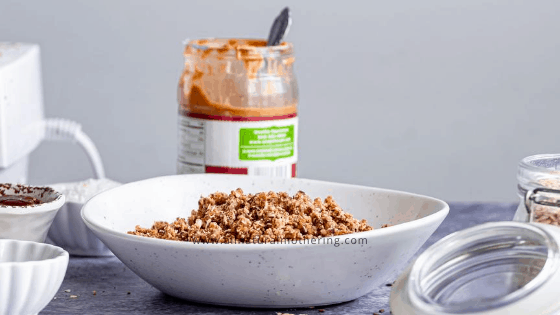 Other healthy add ons
Hemp seeds
Chia seeds
Pumpkin seeds
Sunflower seeds
Sesame seeds
No Bake Coconut Lactation Bites Recipe:
Prep time – 5 minutes
Cook time – 5 minutes
Makes about 10 bites
Ingredients :
10 dates pitted
½ Cup oats
2 tbsp cashews
2 tbsp walnuts
¼ cup flax seed powder
¼ cup creamy peanut butter
¼ cup desiccated coconut
Method:
Add all the ingredients except the desiccated coconut to a food processor and blend until the mixture comes together.
Roll the mixture into a tablespoon sized ball.
Add the desiccated coconut to a tray and roll the balls on the coconut so that they are fully covered with coconut.
Store in an airtight container and enjoy.