Looking for ways to boost iron intake in your kid's diet? This simple and delicious Spinach banana smoothie is one great way to do just that!
If you are looking for more ways to sneak in greens in your toddler's diet , check out these spinach pancakes ,waffles and muffin recipes.
We love smoothies in our home. Especially my youngest who loves banana and anything that has a fruity taste to it. Smoothies have become my standby by meal whenever I want to boost my kiddo's fruit and veggie intake. With so many variations, my little one never gets tired of smoothies.
This Spinach Banana smoothie is very simple, easy to make, naturally sweet and packed with greens and other essential nutrients. If you have a picky eater who refuses to eat his/ her greens, then try adding a handful or even more to a smoothie. Trust me, they will never be able to tell. This green smoothie tastes more like a banana shake and the greens do not affect the taste at all.
This smoothie is great for breakfast or as a snack. You can serve it cold or at room temperature. The best thing about this smoothie is you can find most of the ingredients easily in your refrigerator / pantry.
Have a kid who doesn't like smoothies? No worries! Try adding their favorite ingredient / fruit to it. For example, my eldest is not a big smoothie fan. I would add some cocoa powder to it, so it tastes chocolatey which is her favorite. Now it not only tastes great, but it is also packed with loads of healthy ingredients. You could try masking the taste of the smoothie by adding their favorite fruit too like berries, mango, pineapple etc.
There are so many options!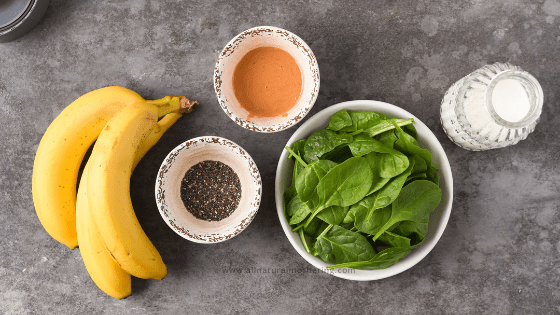 Why should you give your kids this Spinach Banana smoothie?
Banana:
Kids love banana. Not only do they taste sweet and delicious, this humble fruit is loaded with nutrients like potassium, calcium, magnesium, folate, B6, manganese etc. They are easily digestible and rich in fiber. The potassium in banana helps in maintaining good bone health in your children. Does your toddler not like the texture of banana? then adding them to a smoothie is a great way to include this in your kid's diet.
Spinach :
There's a reason kids are told to eat spinach. They even had the famous cartoon Popeye eat it and advocate it, so kids would start eating it too. Why? Because spinach is loaded with essential nutrients, especially Iron. Not only are they a great source of Iron, but they also contain good amounts of Calcium, fiber, vitamin K. Consuming spinach on regular basis can be really beneficial for kids.
Peanut butter:
Peanut butter is a good source of healthy fats, protein and other vitamins like E, B3, B6, etc. Now, if you kid is not allergic to peanuts, adding them to smoothies will enhance the taste a lot. It also makes it creamy and filling.
Chia seeds :
They don't call chia seeds a super food without any reason. They contain several essential vitamins and minerals. They are also a good source of protein and fiber. Add a tsp or so of chia seeds regular in their food is a great way to make their meals healthy and nutritious.
Milk:
A great source of protein, calcium and many essential vitamins and minerals. Cow's milk is a good source of fat too. You can use any milk for this smoothie – oat milk, coconut milk, almond milk etc.,
The smoothie might contain very few ingredients, but all the ingredients that go into it are very nutritious and beneficial for growing children.
How can I make this smoothie vegan?
Simply substitute the milk with any vegan milk like almond, cashew, soy, oat milk.
What if your kid is allergic to peanuts – Simply omit the peanut butter and substitute it some other nut butter like almond butter or cashew butter. Tahini works well too. You can also replace it with an apple, pear or any other fruit.
Can I use frozen banana in this smoothie?
Yes! But adding frozen fruits makes the smoothie thicker and very cold. My kids like the smoothie to be a little on the thinner side, so I avoid frozen bananas. But if your child likes a thicker consistency, go ahead and use it. I also avoid frozen banana as it gets very cold and I will have to wait until it comes a little closer to room temperature by which time my kids are super hungry. So, use frozen fruits if you are okay with the temperature and consistency.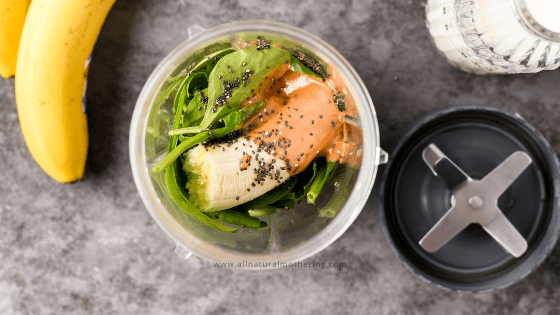 Additional Add ins to the recipe:
Flax seeds
Cocoa powder
Fruits like apple, pear, pineapple, berries
Yogurt
Oatmeal
Dates
Kale
Hemp seeds
Spices like cinnamon, turmeric, pumpkin spice
What to do if your kid refuses the smoothie because it is green in color?
Trust me this happens. My youngest rejects food looking at the color and texture. He does not even have to taste it. So, I like to change the color by adding berries or cocoa powder. Or you could use a cups with silicone sleeves that hides what's inside 😉
Don't want to use bananas?
If you want to avoid bananas for some reason, you can add some dates or maple syrup/ honey for sweetness and add a different fruit. But you will have to add a good amount and blend it very well to make the smoothie creamy and delicious.
This spinach Oatmeal smoothie is:
Healthy
Easy to make
Rich in iron
Gives them a lot of energy
Tastes really delicious
Perfect for breakfast or snack.
You can not go wrong with this smoothie. As most kids love bananas, they will have no trouble drinking it. Don't be surprised if they ask for more. Also, since peanut butter and banana go so well together, the smoothie tastes like a milkshake.
How do I serve this smoothie to my kids?
I like to serve these in cups with their straws. My 18-month-old loves drinking using a straw, so I hold the cup for him as he drinks the smoothie. But if your kid can manage it on his own, you can let him drink by himself. Another option is to serve them in no spill cups or reusable smoothie pouches.
Toddler Spinach Banana recipe:
Prep time – 5 minutes
Cook time – 5 minutes
Servings – 2 to 3
Ingredients
2 bananas
1 cup spinach
2 tbsp peanut butter
1 and half tsp chia seeds
1 and ½ cup milk of your choice
Method:
Add all the ingredients to a blender and blend until nice and creamy.
Since we add peanut butter, it might stick to the sides of the blender. Simple shake the jar or scrape the sides and blend again until everything is mixed well.
Serve