Want to make soft homemade Oatmeal Raisin cookies that your toddler will love?
These oatmeal raisin cookies are easy to make and uses basic ingredients that you have in your pantry. Keep them locked, because these cookies will disappear fast!
Kids love cookies! No surprises there. Unless they are like my eldest who does not like to eat anything sweet. I could never make cookies or cakes for her.
But luckily, my youngest one loves sweet. Cookies, muffins, cakes, you name it. He loves them and wants to eat them all the time. So, I try to make them as healthy as possible when I make it for him. Including whole grains like oats is one way to do that.
These Oatmeal Raisin cookies are so much better than the store-bought ones. You know what goes inside. No unwanted ingredients. You can use organic stuff whenever possible and you can feel happy about serving these treats to your little one.
I also love that you can involve the kids in the cooking process when you make it at home. Adding the flour, mixing the raisins, scooping the batter. All great activities to do with the kids and get them involved in the process. When you involve them in the making, they are always excited to eat their fruits of labor.
These cookies have some all-purpose flour. But it gives a good texture to the cookie. Apart from that, I think they are as healthy as they can get. They are not overly sweet as they only have a small amount of maple syrup. Apart from that, the cookies get their sweetness from the raisins. They are loaded with whole grains, fiber rich raisins and does not contain any processed sugar.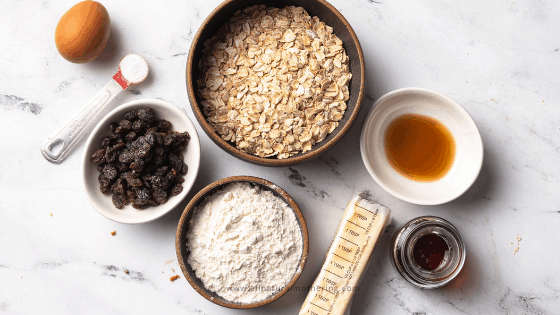 What goes inside these oatmeal Raisin cookies?
Oatmeal :
Oats are one of the healthiest grains. They are a great source of most important vitamins, minerals, nutrients, and anti-oxidants. Oats are naturally gluten-free, so if you are allergic to gluten or have to avoid them for some reason, oats can be included regularly in the diet. Make sure you get certified gluten-free oats as not all the oats you find in the markets are gluten-free. Sometimes they are processed along with other ingredients that contain gluten and they get contaminated with gluten in the process.
Oats are a great source of complex carbs. Complex carbs break down and get absorbed slowly which in turn helps you stay healthy. Including oats in your diet every day can help you meet your daily requirement of fiber.
Oats are one of the safest grains to introduce to your baby.
Raisins
Raisins are a good source of calcium, iron, and potassium. They are rich in fiber which helps with constipation in children. They are naturally sweet and helps provide energy to growing kids. They are perfect to satisfy their sweet cravings when compared to candies and other junk that's available in the market. Though they are healthy and contain natural sugar, you have to make sure you eat them in moderation.
Egg
Egg is one of the most wholesome nutrition-rich food that you can give your children. It is a great source of protein and all the essential nutrients.
Maple syrup
Naturally sweet, maple syrup is an excellent replacement for processed sugar. Maple syrup is also a good source of antioxidants, calcium, and potassium.
Butter
I prefer to use organic butter whenever possible
All-purpose flour
Also prefer to use unbleached all purpose flour
Vanilla essence
Nothing like a good quality vanilla essence to elevate the flavor of any baked goods.
And
Baking soda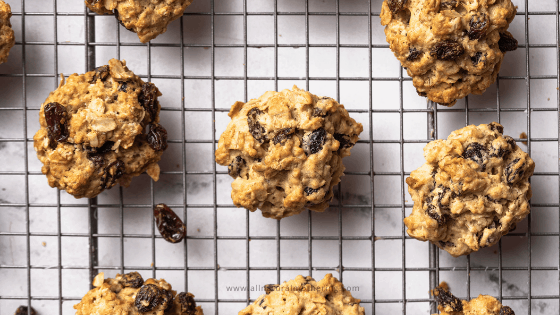 How do you make these oatmeal Raisin cookies?
First, let's mix all the dry ingredients (except the raisins) together in a bowl until it is well combined. Then set it aside.
Then let's cream the butter, maple syrup, egg, vanilla essence together until nice and creamy.
Add the dry ingredients to the wet and combine. Add the raisins and mix.
Now here's when the fun part begins. Enlist the help of the little chefs you have at home.
Line a baking tray with parchment paper and make them scoop a tablespoon size of the dough and place it on the baking tray leaving some space between each cookie.
You can give them some extra raisins and ask them to decorate the dough at this stage.
Bake for 12 to 13 minutes at 350 F until they start becoming golden in the sides.
Let it cool and transfer it to an airtight container.
These cookies stay good in the refrigerator for about 5 to 7 days.
You can freeze the excess dough and use them when needed. Simply thaw the dough and bake as usual.
Add ins to the recipe –
Chocolate chips
Dried cranberries
Spices like nutmeg, cinnamon, ginger, cardamom
Substitutions for the ingredients mentioned in the recipe:
Butter – I would highly recommend not skipping the butter as the recipe needs the fat. But if you are vegan and can't use the butter, I would try vegan butter in its place
Egg – I have not tried substituting the egg with any other ingredient. But you can try flax egg instead.
All-purpose flour – Can be substituted with whole wheat flour. But the cookie texture will be different.

Why should you make these Oatmeal raisin cookies?
Easy to make
Kid-friendly
Great for snacking
Can be frozen for later use.
Great way to include whole grains in the diet
Toddler Oatmeal Raisin Cookies Recipe:
Prep time – 15 minutes
Cook time – 15 minutes
Makes about 20 cookies
Ingredients
½ cup unsalted organic butter at room temperature
¼ cup maple syrup
1 large egg
1 tsp vanilla essence
½ tsp baking soda
1 cup raisins
11/2 cups rolled oats
¾ cup all-purpose flour
Method:
Preheat your oven to 350 F
Line a baking tray or a cookie tray with parchment paper and set aside.
In a bowl add the butter, egg, maple syrup, vanilla essence and mix everything together until they are well combined and creamy.
In another bowl, add the all purpose flour, oats, baking soda, salt and mix.
Add the dry ingredients to the wet ingredients and mix. Add the raisins too and mix until everything is well combined.
Take a tbsp of dough and add it to the baking tray lined with parchment paper.
Flatten the dough slightly as they will not flatten much while baking.
Make sure you leave some space between each cookie.
Bake for 12 to 14 minutes until they start becoming golden in the sides.
Remove from oven and let them sit in the baking tray for about 5 minutes. Then transfer it to cooling rack. Let them cool completely before eating.