These Green Spinach banana pancakes will make a great breakfast that even your picky eater will love. 
Don 't let the colour of these spinach pancakes fool you! They are delicious, and your little ones will think they are the coolest with their bright green colour. 
These spinach pancakes are a perfect breakfast or snack food for your little growing peanut, giving them the freedom to eat them on their own. They are packed with healthy greens and nutritious ingredients to keep them smiling.
These spinach pancakes are packed with all-natural ingredients with no added sugar unless you want to surprise them with a little maple syrup.
Sweetened with mashed banana and coloured green with fresh spinach, no powders here, just the good stuff. Use this spinach pancake recipe as a base recipe and let your imagination run wild.
There are some simple tweaks in the recipe below to make these spinach pancakes gluten-free and dairy-free. 
What age can your baby enjoy these spinach pancakes?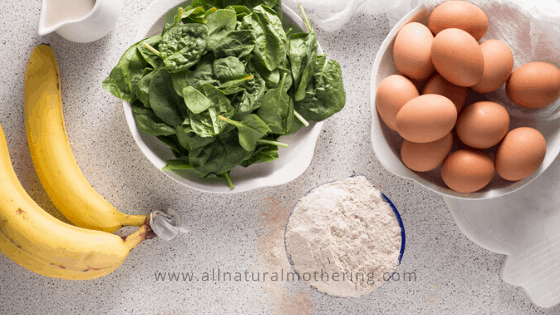 These spinach pancakes are best suited for six months of age and older (when they get their first teeth). Toddlers will love this spinach pancake recipe too!
It will be a new favourite of your little ones. This spinach pancake recipe allows you to fully control how many foods you choose to introduce, giving you the freedom to create a pancake that will suit your baby's needs.  
Benefits of these spinach pancakes
All these ingredients are nutritious and delcious for your growing little one and easily found at your local store.
Opt for organic ingredients, wherever possible to eliminate the pesticides that your little one can be ingesting. Pesticides are harder for babies small bodies to process and eliminate due to their developing livers and kidneys. 
If you are unable to buy organic ingredients, don't stress and do your best.
One way to reduce pesticide exposure is to purchase a vegetable wash from a local health food store and wash your spinach. You can also soak your spinach leaves in water with a little vinegar to remove excess chemicals. 
The spinach in this recipe:
High water content to keep babies hydrated.

High in calcium and other minerals for good bone health.

Dietary fibre to help babes have a smooth bowel movement.
The Sprouted whole grain spelt in this recipe:
It contains soluble and insoluble fibre to support

little tummies.

Because the flour is sprouted, it allows for easier digestion and is packed full of additional vitamins and minerals for growing and developing bodies.
The eggs in this recipe:
Helps provide essential vitamin A & D vitamins for a healthy i

mmune system.

Protein for developing muscles.

Provides healthy fat for developing brains. 
What you will need to make your spinach pancakes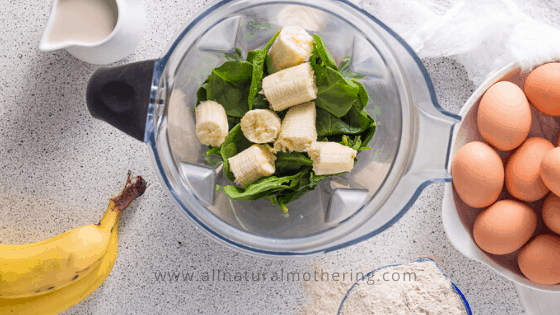 Cast-iron or use a non-stick pan.

 I prefer to stay away from Teflon pans as they can flake off and get ingested by

your baby. Ceramic is another excellent option if you don't have a cast-iron pan. These cast iron pans are hands down the best!

A wooden or plastic spatula

. Wood or plastic doesn't scratch your pans.

A Blender. A blender is a must for this recipe

 because it blends the spinach into a smooth batter. I l

ike using a 

Vitamix blender

. The blender also allows for easy cleanup. 

Spinach.

 I always want to use fresh ingredients

. But frozen spinach can work for this recipe too. Just make sure to thaw before using and squeeze out extra water.

Banana.

 (Optional) Bananas will make the batter a little sweeter. So if you want a more savoury pancake for your little one, you can omit it

.

Eggs.

 Eggs will help your pancakes be light and fluffy. 

Spelt flour.

 I used sprouted Spelt flour from Anita's Organic Mill, but you can also combine equal part whole wheat flour and white flour. There is also an option below to make these

pancakes gluten-free. 
Cooking Your Spinach Pancakes
These spinach pancakes turn out best when the pan is lightly greased; otherwise, they can stick. I like to use avocado oil to grease my cast iron pan lightly. Chosen Foods Brand has an excellent avocado oil. 
Avocado oil has a high smoke temperature of 400 F. This high smoke point allows you to cook your spinach pancakes, knowing that your baby isn't ingesting free radicals, which can be damaging to bodies.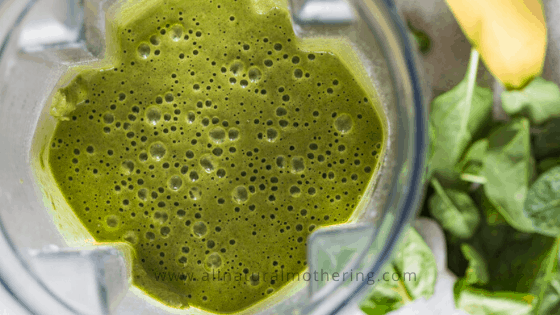 Substitutions for these spinach pancakes
Replacements are easy to incorporate in this spinach pancake recipe, supporting your baby if he or she has allergies, food preferences, or food intolerances.
Spinach– If you don't have any spinach on hand, you can also use kale as long as you cut off the stems and just use the leaves.
Banana – You can omit the banana and replace it with more milk if you want to have a more savoury pancake. You can also substitute the banana for apple sauce.
Milk – You can sub for breast milk, oat milk, cashew milk, rice milk or almond milk. I find using a kind without sugar is optimal. 
Eggs– You can omit the eggs and use flax eggs as a replacer. You will also need to add in 1/2 tsp more of baking powder to help them rise. 
Spelt flour– You can substitute for whole wheat flour or a gluten-free flour blend. I love to use Bob Mill's all-purpose gluten-free mix.
Extra Add-Ins for these Spinach Pancakes
These spinach pancakes are fantastic just as they are, but there are so many other nutritious ingredients that you can add to keep your little ones' taste buds happy and their stomachs healthy. Of course, please make sure these ingredients are always appropriate for your baby. 
If you wanted to add in more protein and healthy fat, you can add-in one additional seed or nut into the batter after you blend it for a little crunch. 
Hemp seeds

Walnuts (chop

ped finely)

Pecans (chopped finely)

Almonds (chopped finely)

Any nut butter
Want to add in spice to help develop your babies' taste pallet? Try a tiny pinch of one of the following aromatic spices into the spinach pancakes (safe to introduce after six months of age):
Want a little fruit in their world?? Add 1/2 cup of these fruits after blending:
Diced Mango

Diced Apple

Blueberries

Raspberries

Diced peaches

Diced cherries
To make this spinach pancake recipe gluten-free
.
There are two simple ways of doing this:
You can get an all-purpose gluten-free flour blend (

I love to use Bob Mills all-purpose gluten-free blend

) from the store and replace the spelt flour in the recipe with the gluten-free flour blend. 
You can replace the spelt flour with 1 1/2 cups of gluten-free quick rolled oats. Make sure to blend the

oats in the blender first to turn into powder before adding the other ingredients. Make sure to grease your pan well, so they don't stick.
To make these spinach pancakes dairy-free. 
You can make these spinach pancakes dairy-free by using rice milk, nut milk, or even breast milk. Using breast milk is a great way to pack in additional nutrients. 
Storing your Spinach pancakes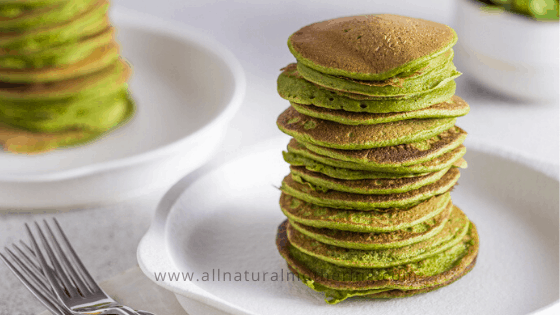 Store your pancakes in the fridge for up to 2 days. If you want to store them longer, I recommend freezing them. We love to make a large batch and freeze them for easy reheating. 
Freeze
Freeze these spinach pancakes in an airtight bag or storage container and store up to a month. When freezing, make sure to put a piece of parchment paper between each pancake to keep them from sticking together. 
Reheating 
Take the frozen pancakes and place them into your toaster. Reheat on defrost setting, if our toaster has one. They make the perfect quick breakfast on busy mornings.
I hope you enjoy making these delicious and nutritious spinach pancakes for your little pancake 🙂 Please share your kitchen journies with us by commenting down in the comment section. We love to hear how your babe enjoyed these baby-wed spinach pancakes.  
Spinach Banana Pancakes Recipe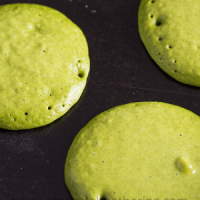 Spinach Banana Pancakes
These Green Spinach banana pancakes will make a great breakfast that even your picky eater will love. 
Ingredients
1 cup Sprouted Spelt flour
2 eggs
1 large banana or 1 1/2 small bananas 
1 cup packed spinach
1 tsp baking soda
1 cup milk of choice
Instructions
Put spinach, banana, milk and eggs into a blender, then top with your flour and lastly, your baking soda.
Blend until smooth on medium-high. Don't over blend. 
Once batter smooth, heat your pan with a spray of avocado oil to medium-low heat. It takes about 2-5 minutes to reach the right temperature.
Pour on the batter into a few small pancakes and let cook for approx 2 minutes or until the top starts to bubble in the middle. Flip and cook for approx one more minute. 
Serve room temperature to your sweet little one.
Follow the storing instructions above. We love to freeze the leftovers and pop in the toaster for a quick morning breakfast
Notes
Always supervise your baby when eating. 
Don't forget to get this helpful baby food planner and tracker today! This will printable make your life easy by letting you pre plan your baby's meals, track feeding habits & preferences and help you introduce a variety of healthy food to your baby.