Morning sickness is the worst, especially when it hits you throughout the day. These anti-nausea popsicles will help ease nausea, keep you hydrated, and are the perfect soothing food for those heavy nausea days.
When can
morning sickness affect you?
Every pregnancy is different when it comes to when you might feel nausea. I felt nausea with both of my pregnancies in the early trimesters. For most women, it typically begins around week 6 of pregnancy and subsides by the third or fourth month. When morning sickness hits its peak is different for every woman, but it will generally be around week 9.
Luckily there are many things you can do to help nausea naturally, and this anti-nausea popsicle recipe is the perfect tool for your anti-nausea toolbox. If you are more of a smoothie person , then we have a recipe for morning sickness smoothie that you should try.

Benefits of these anti-nausea popsicles
Popsicles are a great way to stay hydrated when you are having a bout of morning sickness. They are quick and easy to make, and you can have them ready to go in the freezer for those sudden nausea moments. 
The watermelon in this recipe:
High water content (92 percent) and fruit sugars can help reduce morning sickness and dehydration.
A source of essential nutrients, including Vitamin A, C, and B6, for developing babies.

It provides

magnesium and potassium that can support hydration and also reduce muscle cramping.

Caution about watermelon:

 women with diabetes or who develop gestational diabetes — may want to avoid

 eating large portions

 of watermelon due to their high sugar content. 
The ginger in this recipe:
Ginger may help relieve pain from uterine cramping, affecting many women in the first trimester of pregnancy.

Gingerols are present raw ginger and may trigger the digestive system's receptors and speed stomach emptying, which ma

y help reduce feelings of nausea.

Caution about ginger:

consuming large amounts of ginger in the first trimester of pregnancy can maybe lead to an increased risk of miscarriage. So it is important to listen to your health professionals.
What you will need to make your anti-nausea watermelon popsicles
Food processor or blender.

A food processor makes making popsicles quick and easy 

I love this Kitchen Aid one

. Also, blenders work great for making popsicles; 

we love to use a Vitamix in our kitchen

.
Popsicle moulds

. I like these 

moulds because you can see through them

. But I also like 

using stainless steel to avoid plastic as well.

 
Watermelon

– You can use fresh or frozen watermelon for this recipe. Look at the suggestions below on how to pick out

the perfect watermelon.
Ginger-

Organic ginger root is best. Opt for fresh ginger and make sure there are no signs of moulding.
H
ow to pick out the perfect watermelon
It can get frustrating choosing a pulpy watermelon time after time. These simple tips will help you pick the perfect watermelon each time.
Make sure when you touch them, the skin is hard, not soft.
Visually they should have a large yellow spot on them. A large yellow place means that they were not picked too early and had some time to ripen

on the vine. 

 

Cracks of brown. Most watermelon has little brown veins on the outside; this shows that it is going to be sweet and juicy.

Lastly, the knocking trick. Knock on the watermelons, and if there is a low hollow sound, it isn't a good watermelon.

You want it to have a spring back sound, that sounds like a light knock.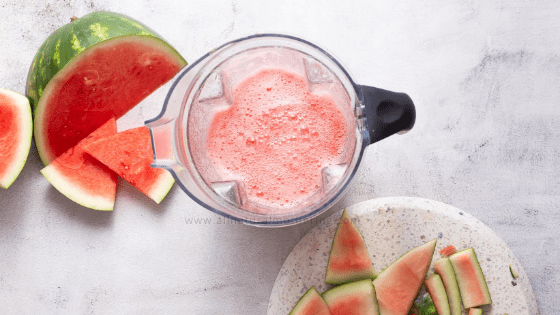 Substitutions for this anti-nausea popsicle recipe
Replacements are easy to incorporate; in this recipe, you can let your imagination run wild.
Substitutions for ginger:
Extra Add-Ins for these popsicles:
You can add in some additional spices and herbs and herbs if you want to help with nausea and digestion. 
Add ins for a sweetener version. If you wanted to add more sweetener you can. These are some great natural sweetener options:
Maple syrup

Agave nectar

Honey
Making your anti-nausea popsicles
Smooth or chunky?
Depending on how you feel, you have the option to blend your watermelon less and have a bit more whole pieces of watermelon in your popsicles. 
Steeping the ginger
The popsicle turns out better when the ginger steeps, verses adding to the blender whole. To steep the ginger, simply add ginger pieces to a 1/2 cup of boiling water for 20 minutes and then let it cool in the fridge. Steeping will provide you with all the benefits the ginger has while balancing the ginger tones out.
Freezing your Anti-Nausea popsicles
Freeze
To freeze, stir in some lemon or lime juice, this will keep your watermelon popsicles a bright red colour. It usually takes about 6 hours to freeze them in a deep freeze. You can speed up this process by putting them in a bowl filled with ice to surround the moulds. It is best to freeze with the lid, included with your popsicle mould, or cover with plastic wrap. This will prevent the ends of the popsicles from drying out.
Storing your Popsicles
To store your popsicles, remove them from their moulds and place them into a ziplock bag. Push out all the air you can to create a vacuum seal. These anti-nausea popsicles will keep fresh for two weeks- 1 month. They don't keep well after the one month mark. 
To remove from the popsicle moulds
I like to run under warm, not hot water until the popsicles release. The hot water can overheat the plastic, releasing toxins. So I opt for warm water; this will also prevent your popsicles from melting to quickly.
Anti-Nausea Popsicles Recipe
Makes 8 popsicles
Prep time 5
Freeze time 6 hours
Ingredients
4 cup chopped watermelon
1/4 cup pieces of fresh ginger root
1 cup boiling water
2 tbsp honey (optional for a sweeter popsicle)
Method
Boil water. At the same time, water is boiling wash and cut ginger and measure out 1/4 cup. No need to cut off all the skin. Place the ginger into a glass and add

1 cup boiling water.

Let ginger and water cool on the counter for 5 minutes and then transfer to the fridge for 10 minutes to let cool down even more. 

While your ginger tea is cooling. Cut and peel watermelon. Cut up and measure out 4 cups and

place it into a blender.

Once your ginger tea is room temperature or cooler pour into your blender.

Blend on high until smooth. If you would like pieces of watermelon in your smoothie blend, 3 cups until smooth and then add in 1 cup and blend slightly to

keep some parts whole.

Pour into your popsicle moulds and put in your popsicle sticks. Let freeze for 6-8 hours.

For storage, tips look above.
Enjoy when feeling nauseous or just for a refreshing treat. My girls even love these popsicles