Looking for a fun summer treat for your baby? These strawberry yogurt pops are the perfect summer treat for your little ones.
Cold, fresh, homemade without any added sugar and colors, it can't get any better. If you wanted to sneak in a bite, no one would judge you either.
Feeding yogurt to babies can be tricky if you are following baby led weaning. These yogurt popsicles are a fun way to offer yogurt to babies. They are creamy, slightly sweet, packed with fruits and almost always baby and toddler approved.
My baby loves to eat a cold treat on a hot day. From tiny sips of cold water, occasional juices to frozen popsicles, he loves them all cold.
It is actually quite fun watching him hold the cold popsicle sticks and lick the yogurt, making a mess all over his face. Not only is he happy, but watching him enjoy the treat makes the whole experience worth remembering.
Benefits of these strawberry yogurt popsicles:
These strawberry yogurt popsicles are a nutritious snack for your little one.
They have the right balance of fat, protein, vitamins and minerals, making it a healthy meal / snack option.
It is recommended that you give only full fat yogurt whether they are Greek yogurt or plain yogurt for babies under the age of 2, unless otherwise specified by your doctor.
A baby needs adequate amount of good fats for his/ her brain development and growth. They act as a fuel and help the body absorb fat soluble vitamins and minerals. The full fat Greek yogurt used in the recipe provides the baby with adequate amount of good fat.
Greek yogurt or normal yogurt are also rich in probiotics. And we all know probiotics play an important role in maintaining the gut health. The good bacteria in the yogurt helps in the wellbeing of the baby's intestines.
The full fat yogurt is also rich in calcium, vitamin D and other minerals which will help with the development of your baby's bones.
Lastly, they are a good source of protein and babies need adequate amount of protein to keep growing along their growth curve.
Benefits of Berries and fruits for your baby:
It can be overwhelming while buying food for your baby. Are you getting the correct item, should I get organic? Is frozen ok? We always have a lot of questions in our mind as we want the best for our baby. While it might not be economical for most to get everything organic, it is highly recommended to get organic berries whenever possible as they are high on the dirty dozen list.
By picking organic berries, you can be sure that you aren't feeding your baby any pesticide, GMO fruits which can be harmful for your little ones.
The organic strawberries in this recipe are rich in anti-oxidants, important vitamins and minerals.
Berries are also rich in vitamin C, which is important of for the body to absorb iron.
They also help in maintaining the baby's guy health.
Berries are a good source of fiber too.
While not common, some babies can be allergic to berries. So please make sure that your baby can tolerate berries before using them in this recipe.
Benefits of Banana for your baby:
Bananas are a great source of potassium, important vitamins and minerals.
They also have a significant amount of fiber which is important for baby's development and wellbeing.
Banana acts as a natural sweetener in this recipe. Since you can't add sweeteners like honey/ sugar/ maple syrup before the age of one, bananas are a great alternative.
Their natural sweetness is universally liked by babies and makes it a nutritious addition to this recipe.
Substitutions for the ingredients used in this recipe:
These Strawberry yogurt popsicles are pretty easy to make with just 3 ingredients that are mostly found in every household.
But if you are missing either banana or strawberry, you can easily substitute it with any other fruit of your choice.
Fruits that work well in this recipe are mangoes, blueberries, raspberry, pineapple, kiwis, peaches, plums, avocado, passion fruit etc.
You can add more fruits than mentioned in the recipe to make it a fruity summer treat.
Bananas can be substituted for another sweet tasting fruit. But do not add any honey or sugar to the recipe if you are serving it for babies under the age of 1.
The full fat Greek yogurt in the recipe can be substituted with full fat plain yogurt. If your baby is allergic to dairy, you can always use non dairy yogurt like soy, almond, coconut or cashew yogurt as advised by your doctor.
Add ons to the recipe:
You can add a variety of fruits either pureed or cut to the recipe, depending on the age of your baby and if he/ she has teeth and is able to chew.
An older baby or a baby with teeth can have fruits cut and added to the popsicle for some texture.
Honey / maple syrup/ agave syrup can be added for babies over the age of 1.
Tools needed for this recipe:
Food processor / blender – to puree the fruits.
Popsicle molds – To add the puree and freeze it to make popsicles.
While it is very convenient for you to have a baby popsicle mold, you can totally do this recipe even if you do not have one. I find it easy to unmold the popsicles when I use a silicon mold like I did here,
Just pour the yogurt and fruit mixture in a small cup (like a paper cup/ disposable cup) and fill it until it is 3/4th full. Add a popsicle stick to it and pop it in the freezer.
Another great alternative is to add the mixture to a big sized ice cube tray and inserting a popsicle stick to it. It will give you mini popsicles which your little one will love.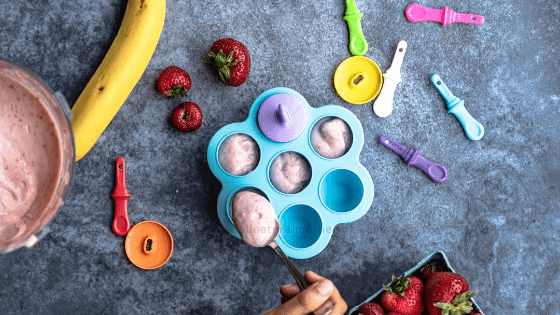 Strawberry Banana Popsicle Recipe
Prep time – 5 minutes
Cook time 10 minutes
Ingredients:
11/2 cups full fat organic Greek yogyurt
1 cup strawberries
1 banana
Method:
Wash and clean your berries.
Add your berries and banana to a food processor and make a puree out of it.
Add the yogurt to it and blend until smooth and well combined.
Use a spoon to add the yogurt fruit mixture to your popsicle molds and fill them until they are 3/4th full.
Insert the popsicle sticks in the middle and freeze them until they are set.
Unmold the popsicles and serve immediately.
Serving suggestions:
Having your baby eat the popsicles by himself can be messy. So, make sure you undress him or make him wear a fully covered bib.
Since they melt fast, it is not recommended to take this while travelling or pack this in your little one's snack box.
You can make different popsicle flavors and freeze them for future use.