What do I feed my baby? This is a question, us mothers have almost every day! More so if you are a new mom.
As parents, we want to give our baby healthy wholesome food that they will love.
But more often than not, we get busy and when it's time to feed the baby we end up resorting to bottled purees and store-bought baby stuff.
But what if we could make something before hand and have it ready for when the baby is ready to eat? Wouldn't that be great?
I have a baby who loves to eat. He loves experimenting with different textures and flavors. But he does not like it when I feed him. So, I have always found it difficult to give him purees and other liquid foods like yogurt.
This fruity yogurt bark solves that problem for me.
Whether you are a mom practicing baby led weaning for your child, or a mom who wants her kid to eat something healthy and delicious, these fruity yogurt barks are a great option.
The best part is they are toddler and adult friendly too!
Have some leftovers? Either pop it in the freezer or use them in your smoothies or eat them as it is.
Anxious to introduce solid foods to your baby? Whether your are doing babyled weaning or purees, this baby food planner printable will help your feel prepared.
This printable includes :-
baby meal planner to help you plan ahead what you will be feeding your baby that week.
baby food tracker to keep track of what baby ate and how much at each feeding session.
baby food log to document baby's food preferences and reaction.
a simple guide to baby's first foods with common food categories to introduce to your baby.
a blank first foods sheet for personalization.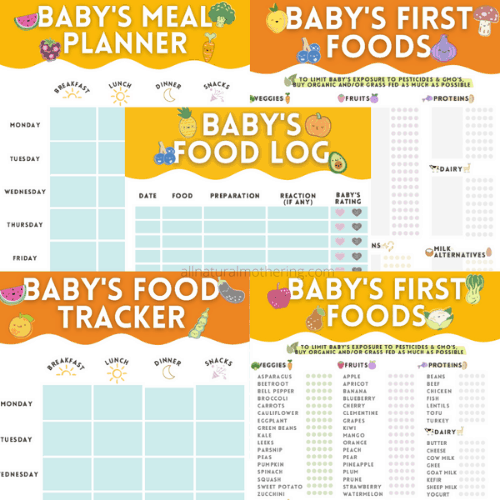 What are fruity yogurt barks?
As complicated as it sounds, they are the simplest of recipes. All you have to do is spread some yogurt on a baking tray / sheet pan in a single layer and add some fruit puree, whole fruits, nuts or any other fun toppings as you wish. You then freeze the yogurt in the freezer until it hardens and sets. When done, break them in chunks of desired size and enjoy. Sounds simple doesn't it?
What I love about this recipe is that it is easily customizable to suit your taste and dietary preferences. If you are allergic to dairy, you can always use dairy free yogurt in the recipe.
You can even make this for older kids or for yourself and add nuts along with the fruits. Sweeteners can be added if you are making this for older kids. You can let your imagination run wild and you will have a simple, fun healthy snack.
Since this recipe uses ingredients we always have in our refrigerator, it is an easy snack/ meal option for most families.
What age can your baby enjoy these fruity yogurt barks?
I would recommend giving this to babies above 6 months of age, when you have introduced solids. As with any food, make sure you have tested the individual ingredients added in the recipe for allergic reactions before you serve this to your baby.
For babies with no teeth, you can avoid the whole fruit and just add the puree. If your baby can chew/ bite, then fruits like raspberry, thinly sliced strawberry and blueberry and many other fruits can be added. Just make sure they are cut small.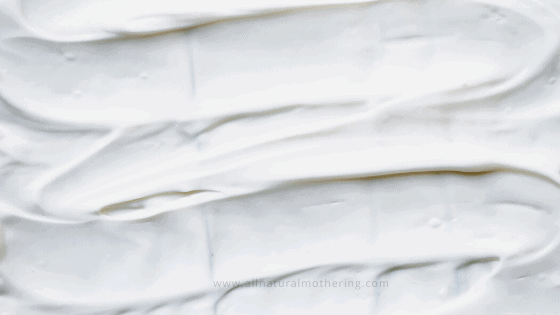 Benefits of full fat Greek yogurt
The full fat Greek yogurt and fruits used in this recipe are all very nutritious and healthy.
I recommend using full fat yogurt in this recipe as a baby needs adequate amount of good fat for his/her brain development and growth. It is recommended not to give low fat yogurt for kids under the age of two unless specifically advised by your doctor.
I highly recommend using Greek yogurt as opposed to regular yogurt as the regular one can taste a bit sour.
Greek yogurt is rich in probiotics which makes it easier for your baby to digest it.
Like any other dairy, they are a good source of calcium, vitamin D and other minerals which is important for your baby's bone health.
Greek yogurt is also great source of protein for your baby.
Benefits of berries and fruits for your baby
Berries are a good source of anti-oxidants, vitamins and vital minerals.
They are rich in vitamin C, which helps body better absorb iron.
Like most fruits, they are rich in fiber too which aids in gut health.
Berries are high on the dirty dozen list. So, it is highly recommended to get organic berries, fresh or frozen whenever possible
Note: While not common, some babies can be allergic to berries. So, make sure you have introduced berries to your baby and he/she has had no allergic reactions.
If your baby is allergic to berries, you can substitute the berries with other fruits like banana, kiwi, apple/ pear puree, mango, pineapple, cherries etc.
This recipe uses fresh berries. But you can substitute it with frozen berries too.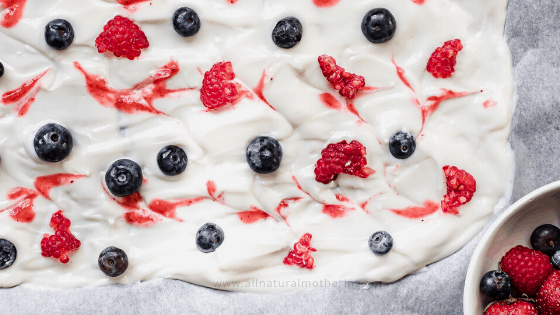 Substitutions for Greek yogurt.
Full fat Greek yogurt can be substituted with full fat normal yogurt, remember it can be tangy. For those with allergies, dairy free yogurt options like soy yogurt, almond milk yogurt, coconut milk yogurt can be used.
Make sure you are using only plain yogurt. Yogurt with sweeteners and added flavors are not recommended at this age. You can add some honey / maple syrup after the baby is one year old. If you wish to sweeten the recipe for kids below the age of 1, use puree of naturally sweet fruits like banana, mango etc.
Other addons to this recipe:
Other fruits like chopped up banana, thinly sliced kiwi, cut up mangoes, pineapple, peaches, plum, passion fruit can be added.
Peanut butter, almond butter, date syrup, honey, maple syrup etc can be added for older kids.
Please note that honey cannot be added for babies under the age of one.
Serving suggestions
These yogurt barks melt very fast! They are by no means a travel snack or a snack you can take on the go.
They have to be served as soon as they are taken out of the freezer.
Since they melt fast, it can get super messy. So, make sure you undress the baby and use a bib to avoid mess.
Just serve one or two barks at a time and store the remaining barks in the freezer until you are ready for the next serving.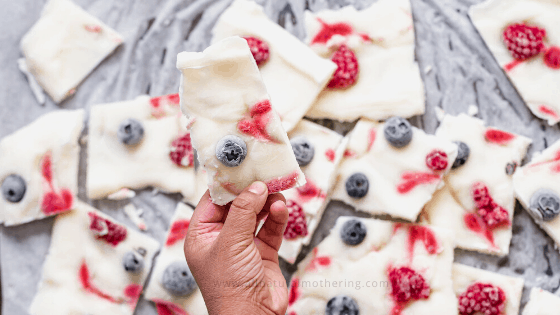 Prep time – 5 minutes
Cook time – 10 minutes
Ingredients:
11/2 cups Organic full fat Greek yogurt
½ cup mixed berries (strawberries, blueberries, raspberries)
Method:
Stir the yogurt to remove any lumps and to make it smooth.
Take a baking tray lined with parchment paper/ silicon mat and add the full fat Greek yogurt to it.
Use a spatula to spread the yogurt in a smooth, even layer.
Take a handful of Strawberries (can use berries of your choice) and puree them in a blender.
Add drops of strawberry puree on the yogurt layer and use a tooth pick or fork to make swirl patterns. (Alternatively, you can just mix the puree with the yogurt completely and then spread them in a smooth even layer)
Now take the remaining berries and sprinkle them on the yogurt layer.
Cover the baking tray with a cling wrap and pop it in the freezer until frozen.
When the barks are hard enough, break them into chunks and serve.
Note:
You can skip the puree and add cut fruits directly.
Likewise, you can skip the cut fruits and just add purees.
Make sure the baking tray you use is small enough to fit your freezer.
Don't forget to get this helpful baby food planner and tracker today! This will printable make your life easy by letting you pre plan your baby's meals, track feeding habits & preferences and help you introduce a variety of healthy food to your baby.