Keeping your milk supply up shouldn't have to feel like a chore so we developed this delicious Apple Pie Lactation Smoothie to be as delicious as it is helpful. It's a great way to celebrate the return of Fall weather (and flavors!) while loading up on good-for-you ingredients that will help boost your breastmilk supply.

What is a Lactation Smoothie?
You might have heard of lactation cookies but not lactation smoothies. There are now so many different types of recipes that people have begun to make that increase breastmilk supply like lactation cookies, lactation energy bites, lactation overnight oats, and even lactation smoothies.
Lactation smoothies are the best way to include a lot of nutrition and milk-boosting ingredients into a single low-calorie meal. Lactation smoothies are perfect to add to your diet if you are trying to regain strength, repair postpartum, or still trying to lose the excess baby weight.
Lactation smoothies (some times referred to as breastfeeding smoothies) include galactogogues which are foods and herbs known to naturally increase breastmilk supply in most women.
Ingredients in Apple Pie Lactation Smoothie
Rolled Oats: Oatmeal has been known to increase supply for some time but science is just now discovering why. First, rolled oats are a great source of iron. Low iron has been linked to decreased milk supply. Next, the presence of plant estrogens in oats has been associated with an increase in milk supply. These factors, along with their nutritionally dense vitamin composition, are excellent reasons to include them in this smoothie.
Apples: While apples may not have a direct link to breast milk production, we all know that "an apple a day keeps the doctor away." Apples are a great source of fiber and Vitamin C, contributing to your overall well-being, so you can pass those nutrients on to your little ones.
Brewer's Yeast: Brewer's yeast is exactly what it sounds like – yeast used in brewing beer or bread. It is a great source of protein and iron, but its claim to fame in recent years has been its effect on milk production. While science has varying reports on its efficacy, many feel they have seen a positive change when adding this supplement to their routines.
Greek Yogurt: In addition to making this Apple Pie Lactation Smoothie extra creamy, Greek yogurt adds extra protein and probiotics. Look for full-fat, unsweetened Greek yogurt to add some extra calories and satiate hunger while breastfeeding.
How to Make an Apple Pie Lactation Smoothie
As a new mom, you need things that are nourishing, but also easy and quick! And it doesn't get much easier than making this Apple Pie Lactation Smoothie! Simply throw it all in the blender and go.
You don't even have to peel the apples. For moms with toddlers and new babies in the house, this is a great way to use up that half-eaten apple your toddler insisted on after lunch.
If you love this recipe a lot and want to make it a part of your regular breastfeeding diet plan, you can create make-ahead smoothie packs with the ingredients so that all you have to do each time it put your milk in the blender, dump in a smoothie pack, and blend! Perfect for busy moms.
Alternative Ingredients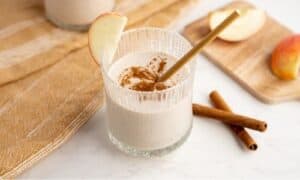 This recipe is ripe for subbing in your favorites. If you're a cinnamon lover, you can double, even triple it. If banana isn't your thing, you can skip it and replace it with a handful of ice and a little extra Greek yogurt. And if vegan is what you're looking for, simply substitute your favorite plant-based milk and yogurt.
Apple Pie Lactation Smoothie Recipe
Makes: 1 smoothie
Active Time: 5 minutes
Total Time: 5 minutes
Ingredients
1 cup unsweetened full-fat milk

¼ cup unsweetened full-fat Greek yogurt
1 frozen banana, broken into pieces
½ cup chopped apples
¼ cup rolled oats
1 Tbsp Brewer's yeast
¼ tsp ground cinnamon
⅛ tsp ground nutmeg
Process:
In a high speed blender, combine all ingredients. Blend until smooth.

Pour smoothie into glass and top with additional cinnamon (optional). Enjoy immediately.
Add more ice or frozen banana for a thicker texture or more milk or water to thin it out a bit.