Nothing says fall like pumpkins, and these gluten-free blender pumpkin pancakes are perfect for autumn. Make them for breakfast or use them as a fantastic mess-free baby snack. You can introduce your baby's taste buds used to all sorts of delicious spices with this recipe too!
These blender oat pumpkin pancakes are made with all-natural ingredients with no added refined sugars to make them super healthy and delicious. They are also super easy to make with only one blender and pan needed, making clean up a breeze! With some simple tweaks to the pancake recipe, you can make them egg-free and dairy-free.
What age can your baby enjoy these pumpkin pancakes?
These pumpkin pancakes are best suited for six months of age and older (when they get their first teeth). The oats in this recipe allow for easy digestion and are a great first grain to start your baby on. You can add as little or as many spices as your wish to this recipe.
It is a fantastic way to introduce new flavors to your baby's palette.
Benefits of these pancakes
The whole foods in this recipe make this a delicious and healthy recipe for your babe. I like to Opt for organic ingredients, wherever possible, to eliminate the pesticides that your little one can be ingesting.
Organic ingredients have also been shown to have a higher nutritional profile than conventionally grown foods, which add more nutrients into your baby's growing body. Also, organic foods are grown without pesticides, which are more problematic for baby's small bodies to process and remove due to their developing livers and kidneys.
If you are unable to buy organic ingredients, don't stress and do your best.
Pumpkin:
Pumpkins are high in Vitamin A, which helps with eye development in babies. Pumpkins are also quite rich in Vitamin C. Vitamin C and A, along with various other antimicrobial properties, keep your baby's immune system healthy.
Oats:
Oats are a great first single grain to introduce because it is gentle on a baby's digestive system. Oats also help promote fullness while preventing gas. Oatmeal also contains high levels of fiber, magnesium, iron and zinc.
Eggs:
With six grams of protein and fourteen essential vitamins and nutrients, eggs are great for a growing baby. They are a great way to add iron into your little one's diet. Lastly, they are a great source of choline, which plays a role in brain development.
What you will need to make your pumpkin pancakes
Blender- We love our Vitamix.But any high powered blender works great.
Cast iron pan- Not only does using a cast iron pan add iron into your diet. But it is also void of chemicals that can leak out of Teflon pans.
Pumpkin Puree. If you have time to make your own, that is great. But any baby pumpkin puree or pumpkin puree in the baking aisle works excellent too. Just make sure your pumpkin puree is unsweetened.
Oats- The quick oats work the best for this recipe. If your baby is gluten sensitive, make sure to get the oats that are certified gluten-free. All oats are gluten-free but are contaminated by gluten in factories that also produce wheat.
Maple Syrup.To help sweeten the waffles and to help brown the outside of them.
Eggs will help your pancakes be light and fluffy.
Spices- Dried organic spices are best for this recipe. You can see below for some ideas of the ones you can add.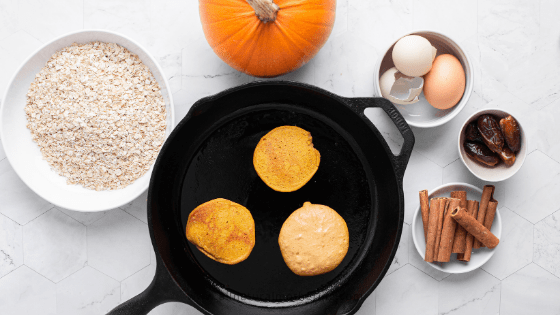 Cooking pumpkin pancakes
I love cooking with a cast iron pan, like this one. Not only does using a cast iron pan add iron into your diet. But it is also void of chemicals that can leak out of Teflon pans.
I also like to use avocado oil to grease my cast iron pan lightly. Chosen Foods Brand has an excellent avocado oil. Avocado oil has a high smoke temperature of 400 F.
Substitutions for these pumpkin pancakes
Replacements are easy to incorporate in this recipe, supporting your baby if he or she has allergies, food preferences, or food intolerances.
Milk – You can sub for breast milk, oat milk, cashew milk, rice milk or almond milk. I find using a kind without sugar is optimal.
Eggs- You can omit the eggs and use flax eggs as a replacer. (1 tbsp ground flax with 2 tbsp water). You will also need to add in 1/2 tsp more of baking powder to help them rise.
Dates- You can omit the dates or add 2 tbsp of maple syrup to sweeten the pancakes.
Pumpkin Spice- You can omit the pumpkin spice or use cinnamon as a replacement.
Extra Add-Ins
You can go wild with this recipe and add in all sorts of great extra add-ins.
If you want to add in more healthy fats and protein and your little one does not have a nut allergy, these can be great options.
Walnuts (chopped finely)
Pecans (chopped finely)
Almonds (chopped finely)
Any nut butter
Want to add in spice to help develop your babies' taste pallet? You can add a 1/4 tsp of the following aromatic spices into the batter (safe to introduce after six months of age):
Cinnamon
Nutmeg
Ginger
Pumpkin Spice ( a blend of cinnamon, ginger, nutmeg, and cloves)
To make these pumpkin pancakes dairy-free.
You can make dairy-free by using rice milk, nut milk, or even breast milk. Using breast milk is a great way to pack in additional nutrients.
To make these pumpkin pancakes egg-free.
You can make them egg-free by using an egg replacer or a flax egg. To make a flax egg mix: 1 tbsp of ground flax meal to 3 tbsp of water per egg. You will also need to add in 1/2 more tsp of baking soda when using a flax egg.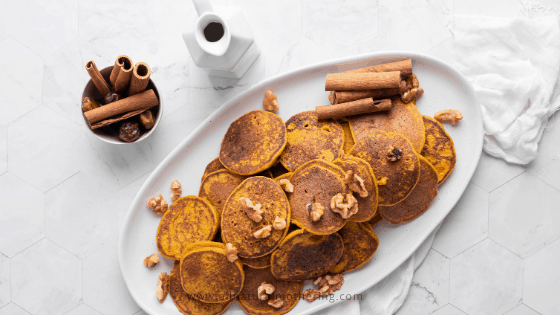 Storing your pancakes
Store your pancakes in the fridge for up to 2 days. If you want to store them longer, I recommend freezing them. This recipe makes quite a few mini pancakes, so if you don't want to keep some for another day, I would suggest cutting the recipe in half.
Freeze
Freeze these pancakes in an airtight bag or storage container and store up to a month. When freezing, make sure to put a piece of parchment paper between each pancake to keep them from sticking together.
Reheating
Take out your frozen pancakes and place them into a toaster. Reheat on defrost setting, if your toaster has one. They make the perfect quick breakfast on busy mornings.
I hope you enjoy making these delcious and healthy gluten-free pumpkin pancakes. Please share your kitchen journies with us by commenting down in the comment section. We love to hear how your babe enjoyed these baby-wed pumpkin pancakes.
Toddler Pumpkin Pancakes Recipe
Makes 25 mini pancakes or 13 large ones
2 cups quick rolled oats
2 cups milk of choice
2 eggs
3/4 cup pumpkin puree
4 dates
1 1/2 tsp baking soda
1 tsp pumpkin spice (optional)
Place 1/2 of the oat into the blender first and then add in your baking soda. Top with the rest of your oats.
Then add in your two eggs, milk, pumpkin puree, dates, and pumpkin spice.
Blend on high until smooth.
Let sit while you heat your pan to medium-low heat—grease well with avocado oil or ghee.
Scoop out just under 1/4 of a cup of batter per small pancake.
Cook for approx. 2 minutes per side or until brown. The best tip is to flip the pancakes when they are bubbling.
Store extras in the freezer for those busy mornings and reheat in the toaster.
Always supervise your baby when eating.