Who doesn't love a good French toast for breakfast? Topped with lots of fruits, delicious syrup it is a perfect dish to start the day with. And if you thought your baby can't have such a meal, then you are wrong. This baby French toast is so easy to make and is always a hit amongst babies and toddlers.
As new mothers, we always wonder if it's ok to give our babies eggs. If so when can we introduce it? How do we give it? I had those questions too.
Eggs are a common allergen. So many of us postpone giving eggs to babies. But research indicates introducing allergens early on reduces the chance of your child developing allergies later. So, if you have started solids, it is perfectly okay to introduce eggs early on after consulting with your doctor and these baby French toasts are a great way to introduce eggs to your baby.
Anxious to introduce solid foods to your baby? Whether your are doing babyled weaning or purees, this baby food planner printable will help your feel prepared.
This printable includes :-
baby meal planner to help you plan ahead what you will be feeding your baby that week.
baby food tracker to keep track of what baby ate and how much at each feeding session.
baby food log to document baby's food preferences and reaction.
a simple guide to baby's first foods with common food categories to introduce to your baby.
a blank first foods sheet for personalization.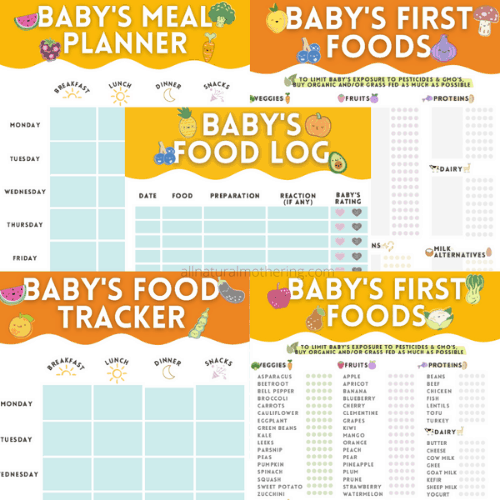 Benefits of these Baby French toasts:
Eggs:
Eggs are one of the most nutritious foods you can give your baby. A single egg contains about 6 grams of protein making it protein rich. Babies needs protein for their growth and development.
They are rich in Omega-3 which are important for the development of your baby's brain and mental health.
They are a good source of good fats. Unlike adults, babies and toddlers need adequate amount of fat for their growth.
They are a good source of Vitamin B12, Folic acid, Vitamin D, Choline, Vitamin E and iron.
If possible, try to get organic pasture raised, cage free eggs for your babies.
Bread
Bread is probably the most commonly found ingredient in most households.
There are different varieties of bread like white bread, whole wheat, whole grain, sour dough etc. When you make a healthy choice in the bread you buy/ make, it makes a great food for babies to snack on.
I like to use either sourdough or whole wheat / whole grain bread for my kids. The sourdough bread used in this recipe is gentle on the baby's tummy. Sourdough contains naturally fermented yeast which is gentle on the baby's tummies.
Whole grain / whole wheat bread is a good source of fiber, calcium, iron etc which helps your baby feel full. But too much of bread can displace other nutritious foods, milk that your baby may consume. So, make sure you serve lots of fruits / veggies along with bread so your baby gets adequate nutrients.
Coconut milk
In this recipe we use vegan milk like coconut milk because we all know that cow's milk is not recommended for babies less than a year old.
Coconut milk is a good source of healthy fats which is vital for baby's healthy growth and development. They are also a good source of magnesium, vitamin E, zinc. Etc.
Cinnamon
Cinnamon helps give the dish a sweet flavor without any added sugar. It is also useful for reducing cholesterol and blood clotting issues.
Butter
Butter is a good source of fat which is important for brain health and overall development of babies. It also provides adequate energy for growing babies.
Vanilla Extract:
This is a highly debated topic. Whether you can use vanilla extract for babies. Many vanilla extracts available in the market contain considerable amount of alcohol. Vanilla extract is absolutely not recommended for babies to be consumed directly. But when used in cooking or baking the alcohol evaporates.
When it comes to younger babies I would be on the safe side and skip vanilla extract all together in this recipe. For my older kids I feel comfortable using this non alcoholic and organic vanilla extract.
Substitutions for ingredients in the recipe
Eggs are important in this recipe as it is hard to make French toasts without eggs. But if your baby is allergic to eggs or if you follow a vegan diet, you can make this with a combination of flax and chia seeds which will act as egg substitutes. But make sure you use a hearty bread for this as they can break apart easily when making this with flax or chai seeds.
Bread – If your baby has a gluten allergy, you can always get gluten free bread. White bread, whole wheat bread, whole grain bread all work well in the recipe. I prefer to use whole grain or whole wheat whenever possible.
Coconut milk – Coconut milk can be substituted with oat milk, almond milk, or even yogurt or cream cheese.
Butter can be substituted with olive / coconut/ avocado oil.
Cinnamon – Cinnamon is a common spice used in French toasts. You can also experiment with other flavors like cardamom, saffron, ginger, turmeric etc.
Other addons to the recipe:
Chia seeds, flax seeds are great addons. They add extra nutrients and fiber to the dish.
Nut butters like peanut butter, almond butter can be added in the batter (if your baby doesn't have nut alergy)
Fruit and vegetable purees like sweet potato purees, pumpkin puree, mashed bananas can be added as well.
How to make these baby French toasts?
This is a very simple and easy recipe. First you will have to cut the bread into long strips that your baby can hold easily. I like to remove the crust if it has a lot of seeds or if it is a very crusty bread. But if your baby has teeth and can chew, then you can skip removing the crust.
Next you will make a batter by whisking eggs, milk, cinnamon, vanilla and butter.
Dip the bread slices in the batter and cook them in a skillet until they turn golden and the eggs are cooked.
Serve with lots of fruits on the side.
Why Make these Baby French toasts?
These baby French toasts are easy to make.
It uses ingredients usually available in your pantry.
The stick like shape makes it easy for babies to hold it and eat by themselves.
They are soft enough for babies to eat.
When served with lots of fruits, it makes for a wholesome delicious meal.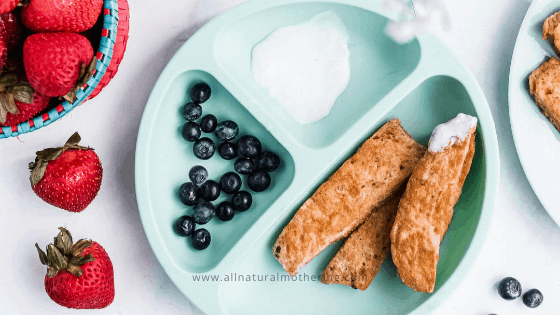 Baby French Toast RECIPE
Prep time – 5 minutes
Cook time – 5 minutes
Ingredients :
2 slices of whole wheat bread
2 eggs
3 to 4 tbsp coconut milk
¼ tsp cinnamon
1 tsp vanilla extract*
1 tbsp butter
Method
Cut the bread in long strips. Remove the crust if serving to young babies.
Mix the eggs, milk, vanilla extract*, cinnamon, 1 tsp butter in a bowl.
Coat the bread sticks in the egg batter so both the sides are coated in the mixture.
Heat an iron skillet with remaining butter and add the coated bread slices. Cook for 2 minutes on both sides until they turn golden.
Top with fruits, yogurt, nut butter and serve.
Notes :
Don't soak the bread for a long time so the bread doesn't break apart.
*Many vanilla extracts contain alcohol which are not recommended for babies to be consumed directly. The alcohol does evaporate when used in cooking or baking. You can avoid using vanilla extract all together in this recipe or choose to use a non alcoholic extract like this one.
Don't forget to get this helpful baby food planner and tracker today! This will printable make your life easy by letting you pre plan your baby's meals, track feeding habits & preferences and help you introduce a variety of healthy food to your baby.