These five-ingredient zucchini fritters are the perfect baby and toddler dinner side dish, snack, and lunch. A delicious baby-led weaning side dish that everyone in your family with love. These zucchini fritters have five simple household ingredients and are quick and easy to make. 
Don't be fooled by all the zucchini; these are the best kind of fritters, and they can be ready in 15 minutes—Perfect side dish for those busy mom nights. They are packed with lots of healthy nourishing ingredients like eggs, herbs and zucchini to keep babies healthy and happy. 
Anxious to introduce solid foods to your baby? Whether your are doing babyled weaning or purees, this baby food planner printable will help your feel prepared.
This printable includes :-
baby meal planner to help you plan ahead what you will be feeding your baby that week.
baby food tracker to keep track of what baby ate and how much at each feeding session.
baby food log to document baby's food preferences and reaction.
a simple guide to baby's first foods with common food categories to introduce to your baby.
a blank first foods sheet for personalization.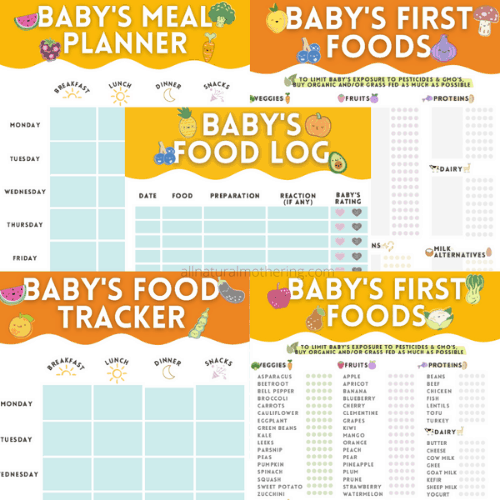 What age can your baby enjoy these Zucchini Fritters?
These zucchini fritters are best suited for six months of age and older (when they get their first teeth).
Toddlers will love dunking these fritters into some sour cream or yogurt.
You can cut these into smaller pieces for your little one, or make the fritters smaller for tiny fingers. This recipe allows you to adapt to food allergy, preferences and sensitives to milk, wheat and gluten. 
Benefits of these homemade baby Zucchini Fritters
These ingredients are nutritious and delicious for your growing little one and easily found at any store or even at the farmers market. 
Do your best to purchase organic flour; flour is one of the most heavily sprayed pesticide crops and most common GMO food. If you don't know what GMO's are, check this link out. Pesticides are tougher for baby's small bodies to process and remove due to their developing livers and kidneys. 
If you are unable to buy organic ingredients, don't stress and do your best. You can look into the dirty dozen here for the top fruits to buy organic.
The zucchini in this recipe:
Contains vitamin A which is excellent for bone growth and the immune system.

A

re a rich source of potassium and magnesium. Helping with contraction of the muscles in the digestive tract for optimal elimination. 

It is easy to digest and can be helpful for babies with constipation.
The eggs in this recipe:
Contain iron to help the ba

by's brains develop.

Rich in protein. Protein plays an essential role in the baby's growth and development.

Egg yolks contain choline and cholesterol, which are associated with brain development in infants.
The dill in this recipe:
It contains soluble and

insoluble fibre to support little tummies.

Are rich in water to keep babies hydrated.

Packed full of vitamins and minerals for overall well being. 
What you will need to make your homemade Zucchini Fritters:
Food processor or grater box

. A food processor

makes for easy shredding. 

I love this Kitchen

Aid one

. Just put in the large shredder attachment and put the zucchini through.  

NO FOOD

PROCESSOR, NO PROBLEM, 

you can use a box grater like this one and grate your zucchini.
Cast iron or a non-stick pan.

 Cast iron pans help give your family a little ex

tra iron in your food. Non-stick pans are okay as well, try not to use Teflon pans as they chip off and then your little one is eating harmful chemicals.

Parchment paper

 is excellent to use when storing your fritters in the freezer. 

Cookie tray or large p

late

. A cookie tray is a perfect place to put your fritters before you cook them. Line your cookie tray with parchment paper for easy scooping. You can also you a large plate, and if you don't have parchment paper, just use a large flipper for easy removal

from your plate to your pan. 

Zucchini- 

you can use green or yellow, the colour doesn't matter. If using non-organic zucchini wash with water and a bit of vinegar to take the waxes off the skin.

Eggs- 

Pasture-raised eggs are the best type of eggs. Pasture

-raised eggs are chickens that can roam in a pasture and have access to the outdoors. These eggs are also higher in beneficial omegas oils. 

Flour-

 For this recipe, I used an organic spelt flour

. You can also use a whole grain spelt flour, or all-purpose wheat flour. To make it gluten-free, we used 

Bob's Mills all-purpose gluten-free flour.

 
Substitutions for these 
Zucchini Fritters 
Replacements are easy to incorporate in this zucchini fritter recipe to accommodate milk allergies, food preferences, or food intolerances.
Switch out the diary or omit it– If your little one is allergic or sensitive to dairy, you don't have to add in the cheese option of the recipe. Instead of the sour cream or yogurt dip, you can use unsweetened coconut yogurt.  
Switch out the light spelt flour– You can sub out the light spelt flour with a gluten-free flour blend. We like to use Bob's Mills all-purpose gluten-free flour. 
Extra Add-Ins for these Homemade Zucchini Fritter 
If you want to add in some other vegetables you can add in:
Grated Carrots

Grated Onion

Chopped Spinach
Switch up the herbs by using these herbs instead of mint. Or you can also add in with the mint:
You can add in some additional spices if you want to introduce your baby to a broad taste pallet (safe for 6 months of age and older):
Cumin 

Garlic

Turmeric

Ginger

Coriander 
Making your Zucchini Fritters
Making sure your Zucchini Fritters are not soggy 
Zucchini is a water-rich vegetable, so it is vital to squeeze out some water using a tea towel or thin fabric. I like to add a little salt to my raw zucchini and let it sit for 2 minutes; this helps draw the liquid out. After sitting for two minutes, I placed into a tea towel and twisted the fabric to help push out excess water.
Getting the perfect brown colour on your Zucchini Fritters
Unless you have an air fryer to cook these in a little oil in the pan will give them a beautiful golden colour. Make sure not to have your pan heat on too high. Having the pan too hot will burn the outside of your fritters and not cook the inside. I like to use medium heat and heat the oil a little as well. 
I like to add a little oil in between batches as well to keep that crisp up. They won't be crispy after you put them in the fridge, so you will have to read the instruction on storing below to bring back that golden crispy crunch.  
Storing your Zucchini Fritters
You can place these zucchini fritters into an airtight container and put them into the fridge for up to 4 days. 
Freeze
You can freeze these zucchini fritters for quick ready-made lunch, snack or dinner. Place into a ziplock bag and put a small piece of parchment paper between each fritter, so they don't stick. These will store well in the freezer for 2-3 months in a deep freeze and 1 month in a regular freezer.
Reheat from frozen
To reheat the frozen zucchini fritters place them on a lined cookie sheet and bake at 350F for 15-20 minutes until heated in the middle. 
Rehe
at from fridge
I like to put mine either in the toaster to reheat or back into the pan. No need to re-oil the pan. It should only take 2 mins per side on medium-low. Don't have the heat up too high, or it will burn the fritters. 
I hope you enjoy making these tasty zucchini bites. Please share your kitchen journies with us by commenting down in the comment section. We love to hear how your babe enjoyed these baby-wed zucchini fritters.
Zucchini Fritters
Recipe
Makes 6 large fritters
Prep time 10
Cook time 8
Ing
redients
3/4 cup light spelt flour or see suggestions above
2 eggs
3 small zucchinis (roughly 4 cups packed)
1 tbsp minced fresh dill 
2 tbsp minced green onion
1/2 cup cheddar or parmesan cheese (optional)
2 tsp avocado oil or neutral oil
Method
Grate your zucchini using a food processor or box grater using the large grater option. 

Sprinkle a little salt on your zucchini (optional) and let sit for 2 minutes to draw out the water.

Chop dill and green onion. 

Use a tea towel or thin towel and put i

n zucchini and squeeze by twisting the top of the towel. Twist over a sink or a bowl. Refer to the picture above. Keep squeezing until there is no more water coming out.

Place zucchini, eggs, flour, dill, green onion, and optional cheese into a large bowl.

Mix well with a fork and then line a cookie sheet with parchment paper. 

Form into 6 patties. You can also form into 12 smaller patties if you wanted as well.

Heat the pan on medium heat and add oil. Once hot, add in your first batch of fritters. Cook for

3-4 minutes on the first side. Flip and cook for 2-3 minutes on the other side until golden brown. See the tips above. You might need to add in a little oil between batches.

Serve with more fresh dill to garnish, or switch out dill for another herb outlin

ed above. Add a dollop of sour cream, yogurt, or coconut yogurt.

See above to store your zucchini fritters.
Always supervise your little one when eating. 
Don't forget to get this helpful baby food planner and tracker today! This will printable make your life easy by letting you pre plan your baby's meals, track feeding habits & preferences and help you introduce a variety of healthy food to your baby.