Apple + Avocado + Carrot Puree will be a delicious wholesome and nourishing for your baby.
Baby Puree is a staple in everyone's baby home!
This apple avocado carrot puree is the perfect combination of flavours to develop your babies' taste pallet.
Easy to make this recipe into a large batch and freeze in simple ice cube trays for easy reheating. This recipe will keep your little one healthy and happy with all these nourishing ingredients.
Anxious to introduce solid foods to your baby? Whether your are doing babyled weaning or purees, this baby food planner printable will help your feel prepared.
This printable includes :-
baby meal planner to help you plan ahead what you will be feeding your baby that week.
baby food tracker to keep track of what baby ate and how much at each feeding session.
baby food log to document baby's food preferences and reaction.
a simple guide to baby's first foods with common food categories to introduce to your baby.
a blank first foods sheet for personalization.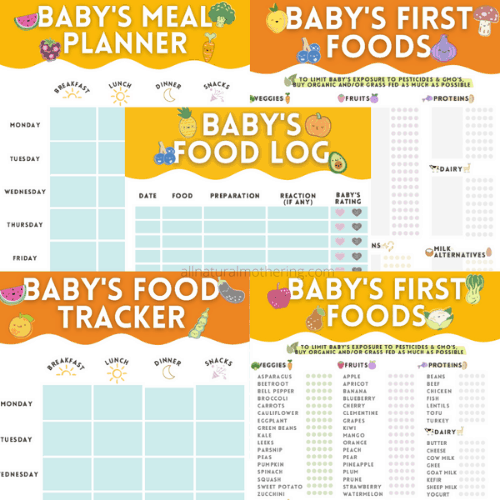 What age can your baby enjoy this apple avocado carrot puree?
This apple avocado carrot puree is best suited for six months of age and older (when they get their first teeth). There are other websites online that suggest you can feed sooner if your baby can:
Sit up on their own.

Hold their heads upright. 

Reach for food when you are eating it.
Not entirely

satisfied with just breast milk or formula.
 Purees are one of the primary types of food that can be introduced to your little one, helping them develop the ability to get used to solid foods. You can slowly start to make your purees chunkier and then begin to introduce solid foods to help them adapt to the solid food textures.  
Benefits of these apple avocado carrot puree
These ingredients are all from mother nature and are perfect for your growing little one, and found with ease at any store or even at the farmers market.   
Do your best to purchase organic carrots, avocado, and apples for this recipe. Organic vegetables and fruit are the best for your little one because you know that they are not getting GMO food or heavily sprayed round up in your babies diet. 
If you are unable to buy organic ingredients, don't stress and do your best. You can place your carrots and apples into a sink filled with enough water to cover your veggies and a tablespoon of vinegar.
Soaking your vegetables in water and vinegar for 5 minutes helps remove some of the excess chemicals and waxes.
The apple in this recipe:
Contains two types of fibre soluble and insoluble, which will help your baby to be regular. 

Easy for your little one, who is new to food, to digest.
H

igh in antioxidants that can help support good lung health
The avocado in this recipe:
 Rich source of poly and mono-unsaturated fats and plant-based omega-3 fatty acids for your babies increased fat needs for brain and physical developments.
The carrot in this recipe:
High in beta carotene (a form of vitamin A). Great for your baby's immune health and eye development. 

Supports a healthy circulatory system; micronutrients such as flavonoids keep the heart and blood vessels healthy. 
What you will need to
make your apple avocado carrot puree:
Food processor or blender

. A food processor makes making purees quick and easy 

I love this Kitchen Aid one

. Also, blenders work great for making purees; 

we love to use a Vitamix in our kitchen

.
Silicone ice cube tray. 

For quick and easy freezing, like these ones.

If you don't have a silicone one, you can use a plastic ice cube

tray. 
Pot steamer set.

 You are going to want to steam your apple and carrots before you puree them

. Steaming them in a pot with a steamer option is a great way to go. 

You could also use a 

pressure cooker

 to cut the cooking time in half.

If you want to invest in a baby food maker then this one does the steaming and blending for you, plus it is made of glass so very safe for your baby.
Carrots. 

Carrots with the tops still on usually have a sweeter carrot flavour, and you know that they are freshe

r than the bagged versions. You could use mixed colours of carrots too.
Apples. 

Some apples don't cook as well as other types of apples. Opt for McIntosh, Golden Delicious, or McIntosh. You can also use any variety you have on hand, just make sure to blend

well.
Avocados

. An avocado is ripe and ready when they feel lightly soft but will not feel "mushy" to the touch. Make sure when you are choosing avocados that they don't show signs of bruising. Usually, when they are green, they aren't ready to eat a dark

er colour along with the feel test will tell you when they are ripe for eating.
Substitutions for this apple carrot avocado puree
Replacements are easy to incorporate; in this recipe, you can let your imagination run wild, helping accommodate food preferences or food intolerances.
Substitutions for apples:
Substitutions for carrots:
Sweet potatoes

Daikon

Turnip
Substitutions for avocado:
Banana

Edamame beans (you will have to steam these)
Extra Add-Ins for this apple avocado carrot puree:
If you wanted to add some herbs into this recipe, your little one might love a little extra flavour in their puree's (safe for 6 months of age and older). Just a little and add more then next batch too much at once might make them not want to eat it :
Par

sley

Basil

Cilantro

Mint
You can add in some additional spices if you want to introduce your baby to a broad taste pallet (safe for 6 months of age and older):
Cumin 

Garlic

Turmeric

Ginger

Coriander 
Making your apple carrot avocado puree
– FAQ's:
Chunky or not chunky?
The great thing about making your puree homemade is the freedom to adjust the consistency of your puree. When your little one is new to eating foods, you can keep your puree very smooth, like the photos in this post. But as your little one gets bigger, you can leave it a bit more chunky, helping transition them to harder foods. 
Is cooking the apple and carrot necessary? 
Ingredients that are more fibrous in nature, like apples and carrots, are harder on the digestive tract to digest when your baby is new to foods. 
By cooking the carrots and apples, you break down the plant walls and some of the fibre, making them easier to digest. Cooking the harder vegetables and fruit will make the transition to solids easier on your little one's tummy. 
Avocados already have a soft texture and are easy to blend—so no need to cook your avocado. 
Cooking your apples and carrots 
I find steaming is the quickest and easiest way to cook your vegetables. It takes minimal time. If you don't have a steamer, you can put a little water into a pot with a lid with your carrots and apples and let steam that way. 
Roasting your carrots and apples is an option as well. You can place it into your oven on a lined cookie sheet. Baking your carrots and apples will create a different flavour that might be fun to try with your baby.
Storing your apple carrot avocado puree
To store your apple avocado carrot Puree in the fridge, place puree into small food storage containers and squeeze fresh lemon juice over the top. The lemon juice will prevent browning of the top of the puree that can be exposed to the air. 
Freeze
To freeze, stir in 1 teaspoon of fresh lemon juice or lime into the mash and spoon into a silicone or plastic ice cube tray.
You can freeze in mini glass jars as well if you want to avoid plastic. 
Reheat from frozen
Place your glass jar or ice cubes into a glass container and place it into hot water. Let sit for 20 minutes, refill with hot water if not fully defrosted. You can also place it into a container and place it in the fridge and let it sit overnight for easy thawing. 
Depending on your little one, they might want their baby food warmed. Simply follow the above method with the hot water until warm. I don't like using the microwave as it denatured the cellular structure of the food. So using hot water is a better safe option for reheating. 
Apple Carrot Avocado Puree
Recipe:
Makes 1 cup puree
Prep time 5
Cook time 8
Ingredients
1 medium avocado

2 apples (2 cups chopped)

1 cup chopped carrots

1 tsp

lemon juice or lime juice
Method
:
Peel your carrots and apples. And chop into smaller pieces. The smaller the pieces, the quicker they will cook in the steamer.

Place carrots and apples into a steamer or see suggestions above and cook for 8-10 minutes. Onc

e a fork goes through them smoothly, they are ready. 

Remove from heat and run under cold water to cool a bit.

Put apples, carrots, avocado and lemon juice into your blender or food processor. ( I find a blender makes a smoother puree). Blend until smooth.

You might have to add a little water if it isn't blending. I added 2 tbsp of water to my mixture.  

 Serve fresh, or review the storing and freezing methods above. 

To make this into a large batch for freezing, you can double or triple the recipe.
Always supervise your little one when eating. 
Don't forget to get this helpful baby food planner and tracker today! This will printable make your life easy by letting you pre plan your baby's meals, track feeding habits & preferences and help you introduce a variety of healthy food to your baby.