There are so many concerns about using disposables these days. There was a recent study which concluded that constant use of disposable menstrual pads and diapers were creating many health ill effects in our body.
Why are disposable diapers so bad for our babies?
Because they contain so many chemicals that are rated by EWG as human carcinogen.
Customisable and Interactive Baby Registry Checklist
How To Choose The Safest Diaper?
Chlorine Free
The inner part of the diaper is made of SAP and wood pulp. In order to whiten and soften the pulp, the material is bleached with chlorine. This produces a chemical by product called dioxin that is a known carcinogen.
When looking for a chlorine free diapers there can be a lot of green washing. There are many brands that advertise as chlorine free but it is important to dig into the finer details to see if they are actually totally free of chlorine.
Total Chlorine Free
Instead of using chlorine bleach, TCF diapers are bleached with oxygen, ozone or acidic and alkaline peroxide. There are much safer option than diapers that are treated with chlorine.
Even though dioxin is dangerous and is marked as a carcinogen by environmental org. You will be shocked to know that diapers are not the ONLY source of dioxin exposure.
Dioxin is present everywhere the main source being food. It is almost impossible to avoid dioxin exposure completely.
That doesn't mean that we have to live with the fact that our kids will have to grow up being exposed to these hazardous chemicals everyday. It means that we as parents should start saying NO to products that releases these known carcinogens into the environment such as choosing non toxic diapers.
Elemental Chlorine Free:
ECF process involves bleaching the wood pulp with chlorine dioxide instead of chlorine. ECF bleach is popular and mainstream with over 93% of the companies opting for this method.
It is to be noted that even though ECF is advertised to be a safer option it still might contain small traces of dioxin.
I would personally prefer to use TCF diapers than the ones that are bleached with elemental chlorine. Please keep in mind that the diapers bleached with ECF tend to be stronger and durable than TCF bleached diapers. I would rather have better ingredients next to my baby's bottom and compromise on durability.
Dye Free:
Dye are pigments or colorants that are added to the diapers for added features.Some features that you desire in the diapers like the wetness indicator or color around the leg elastics or the waist line are possibly due to added colors.
Some kids react very badly due to dyes, developing rashes around the legs ,thighs and waist wherever the dye materials touches the skin.
Whenever possible it if better to avoid them in diapers.
Fragrance Free:
We received few diapers as baby shower gifts when my son was born. I dreaded the strong smell when I opened the package.
Fragrances are generally artificial/synthetic chemicals that are known to cause skin allergies and respiratory related problems.
Diaper companies are not required to explicitly disclose all the chemicals, so they tend to group them under the broad 'Fragrances' umbrella.
Lotion Free:
Sometimes some brands have artificial lotion applied to the inner layer that touches the skin of the diaper.
While some brands choose to use naturally derived lotions many still use petroleum based lotions which I feel is not intended for babies.
In general, when it comes to choosing the safest diaper sticking with a brand that is free of add-on's like dye, fragrances and lotion is your best bet.
Best Non Toxic Diapers:
Andy Pandy Diapers: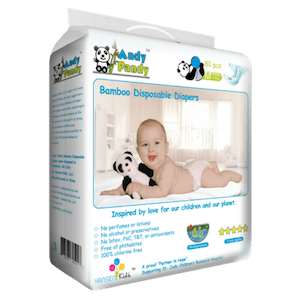 I have listed Andy Pandy diapers on the top for a reason. In my extensive research I found them to be very credible and they came off as one of the brands that really cares.
Their customer service is top notch. I have had nothing but pleasant experience when interacting with their staff.
Andy Pandy diapers are made from 100% non woven bamboo fabric in the inner and outer layer of the diaper. The bamboo used in NOT treated with any kind of chemicals or pesticides.
Who would have thought they you can get a diaper made from bamboo?
I love bamboo for so many reasons. They are a very sustainable and renewable resource. They are naturally hypoallergenic,anti bacterial, and odor resistant.
Bamboo is also breathable and thermal regulating, which further more decreses the chances of rashes and diaper infections.
Bamboo is all the good things you want next to your baby's bum.
Andy Pandy diapers are also TCF ,i.e,, Totally Chlorine Free and that's what I recommend using. The core layers contains a mist of Pure Aloe to keep your baby's skin soft and moisturized.
Andy Pandy diapers do come with a wetness indicator that turns color when your baby pees. The diaper is also Free of Phthalates, No Latex, PVC, TBT, or Antioxidants.
I recently tried Andy Pandy diapers on my little girl and was impressed with the softness and the performance of the diaper. I even used them over night and it held up great without any leaks.
My daughter had mild redness around the bum which cleared out when I switched to Andy Pandy. I ordered an XL since she is around 12 kgs and found it a bit large on her. I would recommend sizing down if your baby is on the lower end of the suggested size range.
If you are in US, you can order a free sample from their website to test out which size fits your baby better. You can use my discount code ANM10, to get 10% off of your first order.
They are also available for purchase on amazon.
I highly recommend trying them out, I'm sure you will be impressed by their quality. There are great for your baby and the environment.
Honest:
Honest was my another top pick until I read about their recent reformulation of the diaper.
Prior to 2018 their inner layer was made of bio-based PLA but sadly with their change their inner layer is now made of polyethylene and polypropylene which is disappointing.
Since the inner layer will be closely next to baby's skin, you must know that these synthetic materials will be touching your baby.
Honest is still better than many of the other conventional brands out there as they don't contain fragrances, latex or lotion.
Another plus is they are not chlorine bleach. They are one of the TCF diapers out there.
The diapers come in fun prints and they definitely look cute. You can order a free trail of diapers and wipes from Honest Co website ( You get 5 diapers are 10 wipes to try)
Eco Naty By Naty Care:
Made with 100% bio-based and plant based materials,Eco Naty is one of of the best natural diaper options out there. Their diapers do not contain any VOC, fragrance, latex or parabens.
The outer layer of the diaper is made of maize starch and cellulose fiber , both are natural materials instead of plastic which allows air flow and keeps your baby cool and dry.
Eco Naty uses very little SAP and mainly relies on chlorine free cellulose fluff pulp which is also biodegradable.
While the product itself is not 100% bio degradable, it is evident that Naty Care is doing their best to reduce the impact on the environment while striving to create product that is safe for your baby.
Eco Naty is the only diaper that has been certified according to STANDARD 100 by OEKO-TEX.
Their diapers are also certified by Swedish Asthma and Allergy Association for the lack of perfume and allergen and is suited for babies with allergies and sensitivities.
Eco Naty also offers a trail box where you can try the diapers for free. They also have a diaper subscription option where the diaper you need will be delivered to you every month, and you also get a 15% discount.
Parasol Diapers:
Another great option that is free of chlorine, dye, latex, parabens, pthalates and heavy metals.
Their wood pulp is FSC certified and sourced from responsibly managed forests.
You can order them on their website or through Amazon.
Seventh Generation:
Unlike other diapers Seventh Generation diapers are not bleached at all therefore their diapers don't look pristine white. Instead their diapers are dyed with a non toxic dye to give them a tanned unbleached look.
What I love about this brand is their transparency. You get to see the full ingredient list of the product which I think is important.
I hope other brands learn from them because I believe every parent has the right to know what they choose for their baby.
So Kudos for being transparent SG!
Although Seventh Generation doesn't use any plant based materials , they are free of chlorine, lotions and perfume.
They are part of FSC and Rainforest Alliance and a certified B Company.
These are one of the best budget friendly non toxic diapers for parents who want to make better choices with limited budget.
Bamboo Diapers:
Bambo Nature Diapers holds a Nordic Swan which is a prestigious label only given to companies that adheres to the strictest eco-friendly manufacturing and production standards.
They are also certified by Asthma and allergy Association Denmark that is given to products that contains no fillers perfumes or formaldehyde.
Given such high credentials of bamboo diapers I was shocked to see that the wood pulp is bleached using elemental chlorine. While ECF bleaching is considered 'safe' by industry standards it still produces some trace amounts of dioxin.
While Bambo nature diapers are dermatologically tested for atopic skins and safe to use with babies that have eczema, if you are concerned about ecf then you might want to go with my top brand recommendation Andy Pandy.
Is Pampers Pure Non Toxic ?
Pampers made a grand entrance into the natural diaper stream with their 'Pure' line of diapers. Pampers 'Pure' looks promising and definitely better than their other diaper products.
Pampers are totally chlorine free and hypo allergenic. The inner layer is made of Plant-based and polypropylene fiber, whereas, the outer layer is made of Premium cotton, Polypropylene, Polyethylene, and Polyester Blend.
I can't seem to find what ingredient they use as a mineral based odor absorber. Other than that Pampers 'Pure' looks like a pretty good diaper to consider if you are OK with having synthetic materials touching baby's skin.
Let's Wrap Up:
The more we learn about the chemicals in diapers the more we start to question the safety of using disposable diapers on our babies. While cloth diapering is a great option, it may not suit every family needs.
Having non toxic diaper options are great for anyone who don't want to or cant cloth diaper.
My Top Non Toxic Diaper Picks:
Andy Pandy Diapers – Best Over All Chlorine Free Non-Toxic Diaper
Bambo Nature – Best Green Diaper (Eco-Friendly & Biodegradable)
Eco Naty by Naty Care – Best Natural Diaper
Seventh Generation – Best Cost Effective Non Toxic Diaper