Carrots are universally a favorite amongst kids. Their vibrant color, slight sweetness, crunchiness all makes it appealing for most of the kids. My elder one calls it bunny food and eats it raw every day.
But did you know that they are perfect for little babies too?
If your baby has started eating solids, then carrots are a great first food, whether you are weaning your baby the traditional way or following baby led weaning.
Anxious to introduce solid foods to your baby? Whether your are doing babyled weaning or purees, this baby food planner printable will help your feel prepared.
This printable includes :-
baby meal planner to help you plan ahead what you will be feeding your baby that week.
baby food tracker to keep track of what baby ate and how much at each feeding session.
baby food log to document baby's food preferences and reaction.
a simple guide to baby's first foods with common food categories to introduce to your baby.
a blank first foods sheet for personalization.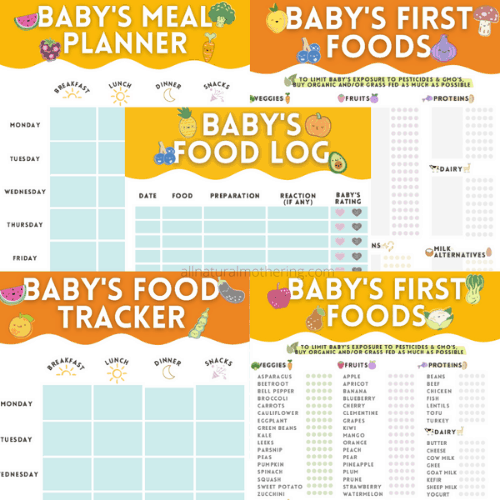 With my eldest one, I always gave her purees and carrots being a common grocery item in our refrigerator, was often pureed as I followed traditional weaning.
But with my second, he hates purees. And every time I tried steaming or boiling the carrots, they either turned too soft to hold or too hard to be eaten without posing a choking hazard.
Even if I did manage to get the consistency right, he did not like the taste of steamed or boiled carrots.
But this was before I figured out the perfect way to cook carrots for him. Roast it!
Roasting is a wonderful way of preparing carrots for babies who are following baby led weaning. By roasting the carrots, they release their natural sugar, which caramelizes and makes it taste sweet and earthy. It makes a great snack for us mothers too.
You might wonder if they become soft enough for the baby to eat it by himself. Yes, it does!
My little one has just 4 teeth and he had no problem eating a whole bunch of these carrots. You can squeeze them between your fingers and see that they will be perfectly soft for babies yet hold their shape at the same time, so the babies can feed it themselves.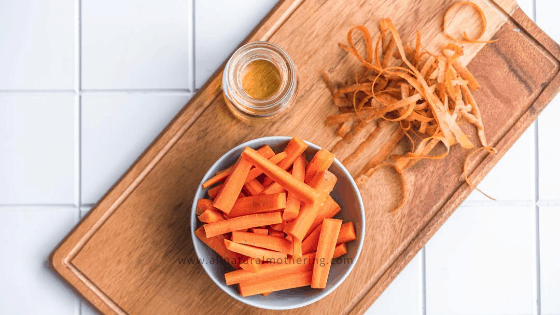 Benefits of these Roasted carrot fingers
Carrots are one of the most nutritious foods you can give your baby. They are a popular choice when you get your baby started with solids for that reason.
They are an excellent source of beta carotene which is important for your babies' sight.
They are easy to digest making it safe for babies' little tummies.
Carrots are also rich in Vitamin A, Vitamin C and Calcium.
What kind of carrots to buy?
I always prefer to buy normal full-sized carrots instead of baby carrots. Though the name says Baby carrots, they are actually full-sized carrots that have been cut in small sizes. They are then cleaned in some kind of solution to keep them fresh. Since we will be using these carrots for babies, it is better to buy full sized carrots and cut it ourselves.
How to make these Roasted Carrot fingers for baby led weaning?
This is such a simple and healthy recipe. It requires just 5 minutes of prep and the oven does the rest for you. First you would have to clean and prep the carrots. To keep the skin on or off is your choice. I Prefer to peel the skin off especially when I am buying carrots that are not organic.
You will next have to cut the carrots in thick sticks, about the size of your finger so its easy for the bay to hold it. They should be around ½ to 3/4th inch in thickness.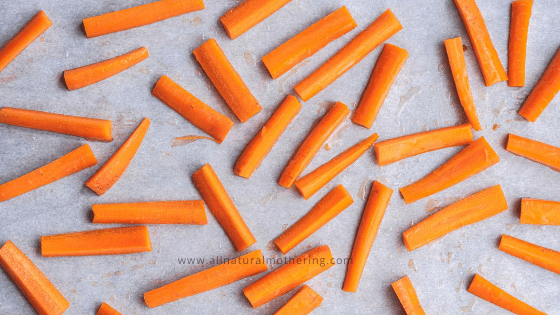 When you have cut all the carrots, toss them in a small amount of olive oil. You can use butter too if your baby can tolerate dairy.
Now you can sprinkle some spices if you wish. It's a great way to add flavor without adding salt/ sugar and early exposure to spices makes your baby a healthy eater.
I like to add one spice at a time so that the baby is not overwhelmed with too many flavors. Spices that go well in the recipe are –
Turmeric powder
Cinnamon powder
Ginger powder
Garlic powder
Dried herbs like thyme, mint, oregano etc.
Once you toss the carrots in the spices, you will have to arrange them in a baking tray.
Now is the most important part. While roasting the carrots, we need it to be tender enough for the baby to eat. Chewy or crispy carrots will be difficult for a baby to eat especially when he has no or minimal teeth.
So, we cover the baking tray with an parchment paper. What this does is, it helps create steam which will make the carrots tender. At the same time, since we are roasting it, they get nice and caramelized making it so delicious.
Now if you are making this for older babies who can bite/ chew, you can do this without the sheet.
That's it. Delicious baby led weaning friendly carrots are ready for your baby!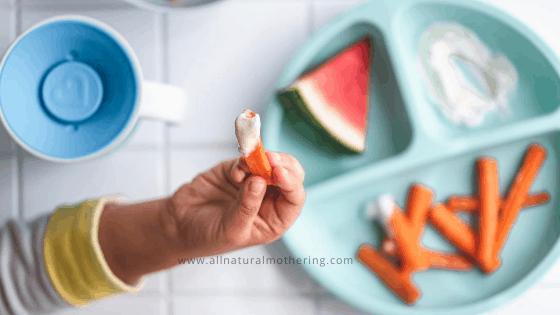 Storage and serving:
You can make a small batch and refrigerate it for a 2 or 3 days in an airtight container.
I like to warm them slightly before serving.
Substitutes for carrots
You can make this roasted veggie recipe with any other vegetable of your choice.
I like to do the same with sweet potato, potatoes, beets.
The cooking time will vary depending on the veggie you use.
Why should you make this roasted carrot fingers?
They are
Healthy
Easy to make
Sweet and delicious making it appealing for babies
Can be made ahead
BLW Carrots Fingers Recipe:
Prep time – 5 minutes
Cook time – 35 minutes
Ingredients
250 grams carrots
11/2 tsp olive oil
Method:
Pre heat the oven to 375 F
Wash and scrub the carrots.
Remove the top off the carrots and chop the carrots into long finger sized strips. Approximately ½ to 3/4th inch thick.
Add the cut carrots into a bowl and add the olive oil. Massage it, so that all the carrots are coated in the olive oil.
Now place the carrots in a single layer in a baking tray lined with parchment paper or a silicon mat.
Cover the baking tray loosely with a baking sheet.
Bake for 35 minutes.
When done, remove them from the sheet, serve the carrots at room temperature to your little ones.
Don't forget to get this helpful baby food planner and tracker today! This will printable make your life easy by letting you pre plan your baby's meals, track feeding habits & preferences and help you introduce a variety of healthy food to your baby.